Posted 22nd May 2017 | 3 Comments
New 'green' station opens in Cambridge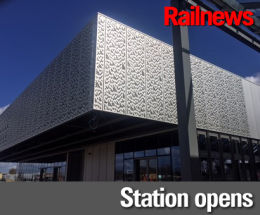 A STATION serving science and business parks in Cambridge has opened.
Cambridge North is operated by Greater Anglia, but Great Northern trains also call there, with both operators offering a total of six departures in a typical off-peak hour. Destinations include London Liverpool Street, London King's Cross and Norwich, and there are also regular services to and from the main station serving central Cambridge. From 2019 trains on Greater Anglia's new route between Norwich and Stansted Airport will also call.

The three-platform station includes a 1,000-space cycle park and a car park for 450 vehicles. It is also served by buses, including those on the Cambridge guided bus route.
Green technology has been used on the site, including solar panels providing up to ten per cent of the station's power.
Greater Anglia managing director Jamie Burles said: "This is great news for Greater Anglia and for Cambridge. The existing station at Cambridge is one of our busiest stations. This station should relieve some of the pressure on it. It takes about 30 minutes to drive from Cambridge station to Cambridge North but just six minutes by train, so it should be a great boost to people commuting to work in the science park, or for people commuting from northern suburbs or villages.
"It's a fantastic design, incorporating Cambridge's innovative heritage, and one of the most environmentally-friendly stations on the network. Cambridge is a thriving city and this station will help to make rail travel even more attractive, as well as supporting the continued growth of the local economy."
Bob Menzies, service director strategy and development for Cambridgeshire County Council, added: "We developed a design in partnership with Network Rail. We very much see it as an integrated transport hub.
"It had to function well as a railway station, be reasonably economical to build but also resonate with Cambridge. I think that it will come to be a bit of a landmark."
Reader Comments:
Views expressed in submitted comments are that of the author, and not necessarily shared by Railnews.
There is already a perfectly fine facility to the south of Cambridge; perfect for the motorist and near to the A505 and j.10 of the M11; its called Whittlesford Parkway. It would be a beneficial exercise IMO to re-market it as Cambridge South Parkway.

A station at Addenbrookes is also long overdue; especially since the Cambridge Busway now crosses its likely site.

The business case for Addenbrookes Station would also be further enhanced, if the proposed 'EastWest' link to Milton Keynes and Oxford used the current line from Cambridge to Royston, with the 'missing link' over to Milton Keynes diverging just west of Royston. Constructing a new Royston to Millbrook line; would be considerably shorter than Bedford-Sandy-Cambridge, and would easily provide the funding for a new Addenbrookes station.

A further point I would like to make surrounds the exhorbitant £50M cost of Cambridge North. Why cant we start to use our brilliant young designers and engineers to build new stations using recycled materials, at massively reduced cost ? When I go and look at some of our new stations, they seem like little more than depressing draconian 'meccano' sets, built with emminently recycleable materials like aluminium, rubble and plastics.

We've erected substantial ironmongery to support overhead wiring; why cant that same ironmongery support an overall roof which would not only provide shelter but could include substantial square metreage to generate renewable energy?

It does look very nice from outside and inside. If the new railway station north of Cambridge City Centre wasn't called Cambridge North. Then it could of been called Chesterton railway station or Cambridge Science Park railway station. But instead it's called Cambridge North and it serves the Science Park and the Chesterton area.

What about Cambridge South railway station. Will the new railway station be built to serve the South Cambridge area and nearby Addenbrooks Hospital aswell the P&R site off the M11 motorway.

[Yes, a further new station south of central Cambridge is indeed being considered.--Editor.]