Posted 20th April 2017 | No Comments
NAO highlights smart ticketing failings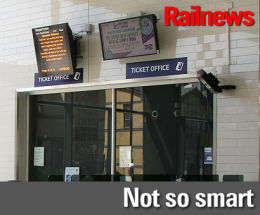 THE National Audit Office has delivered a damning verdict on the progress of smart ticketing on National Rail, accusing the Department for Transport of failing to live up to promises made only a few years ago. In a new report, it says: "The Department has paused and reconsidered its approach to the Programme, and changed its scope and objectives on a number of occasions."
The DfT, which has conceded that it was an 'ambitious programme,' had originally intervened in 2011 by taking over the development of smart ticketing from train operators. The NAO said: "The Department decided to initiate the Programme to provide a more coordinated delivery approach and provide funding for the infrastructure and the development of a central back office system to process ticket purchases and journeys using smartcards."
However, the hoped-for improvements did not materialise, because of 'weaknesses in governance'. The NAO said: "An original aim, when the Department established the Programme in 2012, was to have flexible ticketing including discounted, part time season tickets to passengers in place on 11 franchises running services into London by 2014. By April 2017, the Programme has enabled five of the 11 train operating companies running services into London to offer season tickets on smartcards. Only one of the five train operating companies currently offers flexible, part time season tickets."
The cost of setting up the back office systems to support smart ticketing was originally put at £45 million, but this rose to £54 million. Even so, the resulting systems are only being used to about 5 per cent of their capacity, and costs are continuing to rise. The latest DfT estimate for achieving the original 2012 South East Flexible Ticking programme (or SEFT) is now £94 million.
The NAO added: "The Programme was paused three times and reset twice, and each time the scope was reduced and the budget revised."
The report concludes that new agreements between the parties, including Transport for London, are essential. Some of these were signed in March, but others are outstanding.
The DfT said: "This was an ambitious programme to lay the foundations for smart ticketing for rail passengers across the country. It introduced smart card season tickets on five train operators, upgraded over 450 stations and created a hub for smart ticketing to be introduced across the entire rail network. The SEFT programme means more than 400,000 season ticket holders now have access to paperless tickets.
"Smart ticketing remains a priority for the Government and we continue to work with the RDG and train operators on its roll out across the country."
Responsibility for managing the introduction of smart ticketing on a day-to-day basis is being passed back to the Rail Delivery Group this month.
A spokesman for the RDG said: "SEFT has already delivered a key back office system which will be the foundation for rolling out smart ticketing across Britain. We are already seeing this with the steady increase in the take-up of smartcards across several train companies.
"While a lot of progress has already been made, there is a lot more to do to modernise and improve the way we sell train tickets."
Lianna Etkind of the Campaign for Better Transport said "Delivering smart ticketing was a 2015 manifesto commitment. Passengers will be incensed that the Government has comprehensively failed to deliver on this, despite squandering tens of millions of taxpayers' money.
"Not only is this wasted money, it's a wasted opportunity. The Oyster card has been working well in London for over a decade, and has helped millions to save money and to travel more easily across buses, train and Tube. Without Government leadership, the UK risks falling behind the rest of the world on smart ticketing.

"The next Government must learn from this and deliver smart ticketing that will allow for seamless travel across all modes and operators with flexibility for part-time workers, not just in the South East but across the whole country."