Posted 1st February 2017 | 4 Comments
Ticket-splitting comes in from the cold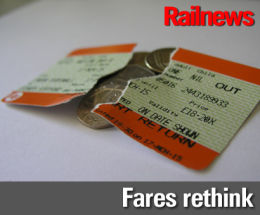 A SERIES of reforms affecting fares for longer-distance rail travel has revealed an official alternative to the long-established practice of 'ticket-splitting' for the first time.

The Rail Delivery Group has announced that a best value end-to-end 'through fare' will be offered for test journeys where changes of train are involved, offering one price combining the cheapest fare for each leg of the journey.
The uneven tariffs on National Rail sometimes mean that a journey from A to C will be more expensive if booked through, but cheaper if separate tickets are used from A to B, and then B to C. Passengers may use the same train for the whole journey, but if they do the train must call at B en route.
The Rail Delivery Group has described the changes as 'radical'. They will only apply between London and Sheffield or Scotland at first, although passengers will still be free to arrange their own ticket-split on any route.
Improvements to ticket vending machines have also been announced as part of an action plan published by the RDG. Train operators, the Department for Transport and the consumer group Which? had agreed the principles of the changes at a meeting with rail minister Paul Maynard on 13 December.
Trials are due to start in May on selected routes, offering new pricing, simpler routes to give passengers clearer choices, and the removal of what the RDG describes as 'unnecessary and unwanted fares' from the system, which have accumulated within the database over many years
Other aspects of the ten-point plan include new design guidelines for ticket vending machines, which will use simpler language and also publicise the times when off-peak travel starts or ends.
The RDG said that improvements to machines would start this summer, and be completed by the end of the year.
Jacqueline Starr, who is managing director of customer experience at the RDG, said: "We know customers can find it hard to get the right ticket for their journeys due to complex rules and regulations built up by governments over decades. There are more than 16 million different fares, many of which nobody buys. This also makes it more difficult to give passengers the right, simple options on ticket machines."
The RDG's members have often come under fire for the complexity of rail fares, but the RDG maintains that 'decades-old government rules covering rail fares, originally intended to protect customers but introduced before the internet and online booking, have prevented train companies from being more flexible in offering tickets that customers want'.
The plans have had a mixed reaction. The Labour Party welcomed them, but said the changes announced so far were just 'tinkering around the edges'.
Shadow transport secretary Andy McDonald said: "Privatised rail has created a fragmented system with a jumble of operators offering a complicated array of fares for passengers to navigate. Passengers don't want to shop around for tickets, they want to get from A to B for the cheapest price. This is why Labour will bring our railways back into public ownership."
RMT general secretary Mick Cash said: "This is an open admission by Britain's private train companies and the Government that they have been ripping off the travelling public for over two decades.

"If we want a fair deal on fares then that means keeping ticket offices open, keeping staff on the stations and platforms and nationalising our railways into one publicly owned body with one pricing structure. The proposals from the train companies today are just pure window dressing."
Reader Comments:
Views expressed in submitted comments are that of the author, and not necessarily shared by Railnews.
Its about time this happened and perhaps the different companies should standardize on peak and off peak timings too? Currently different companies and different times that you can use certain tickets. The problem is when you come to a ticket machine how does "Joe public" know what they can use when. The whole ticket buying issue needs to be simplified and streamlined. But I won't hold my breath as it appears that as train companies use this complexity to "manage demand" on over crowded service ticketing will get more complex.
My advise would be, if you have a manned ticket office, use it and ask for the cheapest ticket from A to B then if they make a mistake you have a leg to stand on. If you use a machine it is buyer beware!

I doubt any simplification will be able to replicate the savings which can be made in some cases. Try Oxford to Leicester, splitting at Banbury and Birmingham.

Unless single tickets are made a fixed fraction of the weekly season ticket, say 1/8th or 1/9th, split ticketing will always be with us.

It is outrageous for the RDG to attempt to blame the government for the bewildering complexity of fares, most of which the train companies they represent have chosen to introduce. The other privatised utilities have employed the same trick for years now, offering vast arrays of tariffs, purposely designed by their sheer volume to bamboozle consumers. The RDG insists they want to "simplify" fares, yet only last month one of their biggest members SWT took the unprecedented step of introducing weekend time restrictions and yet another layer of fares where previously there had been one simple price!