Posted 10th April 2017 | 3 Comments
Freight train begins 12,000km trip to China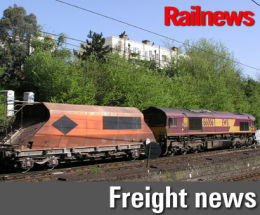 THE first freight train to run from Britain to China is set to leave Barking in east London today, almost three months since the first arrival of rail freight from China on 18 January.
The train will travel 12,000km over 18 days, passing through France, Belgium, Germany, Poland, Belarus, Russia and Kazakhstan.
Freight trains are much cheaper than air cargo and also greener, while twice as fast as the journey by sea.
The train from London will carry soft drinks, vitamins, pharmaceutical products and Scotch whisky, and is due to arrive at Yiwu, an eastern Chinese city in Zhejiang province, on 27 April.
DP World chief executive Sultan Ahmed Bin Sulayem said it was a 'significant trade occasion'. He added: "DP World London Gateway, one of the UK's largest logistics hubs, is designed and developed to ensure products can be both imported and exported from the UK via ship or train in a faster, safer and more reliable way than ever before. We look forward to enabling and facilitating more trade between the UK, China and the whole world."
China is promoting a programme known as 'One Belt, One Road', echoing the Silk Road trading routes which were known to exist more than 2,000 years ago. Trains from China have been reaching some destinations in continental Europe since 2011, but only started to cross the Channel this year. DB Cargo said 40,000 containers were moved between Europe and China by train in 2016, and that total is expected to rise to 100,000 by 2020.
Other freight operators are watching with interest. Greencarrier Freight Services rail freight manager Johan Ignell said recently: "There is an increasing demand [for] transport solutions that are not as costly as air freight and don't have as long lead-times as sea freight. As a general trend, many customers are looking into innovative and sustainable transport solutions that reduce their environmental impact."
Reader Comments:
Views expressed in submitted comments are that of the author, and not necessarily shared by Railnews.
How does a diesel train cross the channel ?
[Who said it was diesel-hauled? (That 'freight news' is our standard stock graphic for freight stories).--Editor.]

A lot if publicity about this train carrying UK goods to China. Pity it was hauled by a loco belonging to a German company. DB.
[Leased by a German company, I think. Console yourself with the thought of all those National Express trains which took German commuters to work today.--Editor.]