Posted 15th March 2017 | 4 Comments
Underground extension at risk with '£50m shortfall'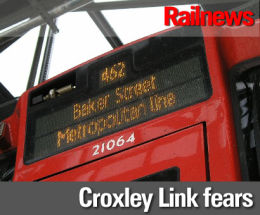 CONSERVATIVES on the Greater London Assembly have claimed that the extension of the London Underground Metropolitan line to Watford Junction over the former Croxley Green branch is running out of money and could fall victim to a £50 million shortfall. A proposed extension of tram services to Sutton in south London has already been threatened after £100 million was withdrawn from that project in December.
The Croxley Link had been planned for many years and work is now under way. But it has been a victim of soaring costs and is running late, with its original budget rising from £116 million to £284 million.
Control of the scheme was moved from Hertfordshire County Council to Transport for London by the DfT in 2015, but there were fresh concerns about the scheme last year when it did not appear in TfL's latest business plan.
The Croxley Link involves diverting trains from Moor Park on to a former British Rail line and closing the present 'Watford Met' station, which is in a park some distance from the town centre. The advantages include two new local stations serving suburban Watford, one close to the football ground, and interchange opportunities at Watford Junction with suburban and intercity National Rail trains, as well as London Overground services towards Harrow.
The project includes a new viaduct in Croxley Green, which is needed to connect the Metropolitan line with the disused branch.
According to the Conservative Assembly members, London Mayor Sadiq Khan's partial fares freeze has forced TfL to find £640 million in savings, and he is 'insisting' no more cash is available for the project. It was reported in December that no more government funding would be available either, but the Mayor and TfL are now said to be writing to the Department of Transport requesting a rethink.
London Assembly member Gareth Bacon said: "The extension's future has been put in jeopardy due to the Mayor's poor decision-making. His partial fares freeze has put TfL's budget in total turmoil, and left him with no room to move if new expenses crop up. This project was set to provide London with new links to thriving areas but, as is common in large projects, costs have increased over time. The Mayor will not be able to find this funding and instead wants the government to accept the burden of saving this project."
However, TfL does not accept that the project is cancelled.
David Hughes, London Underground's director of strategy and service development, said: "After taking on the Metropolitan Line Extension from Hertfordshire County Council we have undertaken a detailed review to establish the true cost of the project. Following this extensive work we estimate that to complete the extension, which is located outside London, we would need to double the funding commitment we have already made, requiring more than an additional £50 million that we are unable to provide.
"This does not mean the project has been cancelled and we remain open to helping assist the Department for Transport in finding an alternative funding package for the project, or alternative schemes that may be more affordable."
Reader Comments:
Views expressed in submitted comments are that of the author, and not necessarily shared by Railnews.
We would be in a sorry state of affairs if TfL services ended at the GLA boundary! Don't forget that a portion of TfL revenue comes from through ticketing and shared revenue with the TOCs. Hence I cannot agree with Melvyn on the project being wholly within Hertfordshire - it has impacts beyond there, not least the new S7+1/S8 that has already been bought and delivered as part of the project. There is no logical reason whatsoever to close the Watford branch and in fact doing so would be hugely counter productive as Watford Met has stabling for 8 sets!

What I can say is this.
(1) the project's CBR was marginal to begin with at £116m. There are a number of housing projects near the route of this line waiting on the MLX, and these should be contributing to the cost overshoot.
(2) Herts CC have had a damned cheek where TfL is concerned, axing their contribution to several cross-boundary bus routes and trying to inflate land value costs when transferring assets to TfL.
(3) The route of the old Croxley line could easily have been brought back into use had the Borough Council retained the embankment which allowed a southern connection to the London Overground route there. Bakerloo or London Overground services could have provided the service the council was looking for at a far lower cost than a medium sized viaduct. As it is their land grab for a scheme sold as a hospital development plan (which looks like it will be just housing and retail now) has removed this option entirely.



Agree with Melvyn in that Herts wants something for nothing.

This project is outside Greater London and wholly in Hertfordshire so it should be for that county to pick up any shortfall and not Londoners .

One solution could be to close the Watford Branch and thus increase services to Uxbridge , Amersham and Chesham . With Watford Junction served by more frequent Overground service .

Just another Fine Mess left by Boris to whoever his successor was !