Posted 23rd November 2015 | 3 Comments
Funding approval means green light for Croxley Link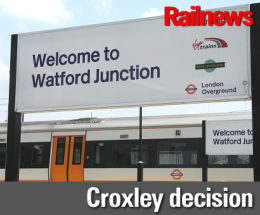 TRANSPORT for London has confirmed that it has secured full funding for the Croxley Link extension of the Metropolitan Line.
The development means that a funding gap of £2.73 million has been closed. This was revealed a few weeks ago, casting fresh doubt over the future of the long-discussed scheme.
The diversion of the line away from the present Watford station on the edge of the town centre will use the former Croxley Green BR branch and bring Metropolitan trains into Watford Junction. The extension will also bring London Underground trains back to Watford Junction for the first time since rush-hour Bakerloo Line trains were withdrawn in 1982.
TfL said work on the new link is to start next year and will be completed by 2020, creating more than 6,500 jobs and boosting the local economy by £2 billion.
Two new intermediate stations beyond Croxley Green will be built at Cassiobridge and Watford Vicarage Road, served by trains running every ten minutes in peak hours.
The stations will serve Watford General Hospital and the new Health Campus, Croxley Business Park, Cardiff Road Industrial Estate and Watford Football Ground.
The funding has been agreed by the Department for Transport, Hertfordshire County Council and Transport for London. The existing terminus, known locally if unofficially as 'Watford Met.' will close, but TfL said the site would continue in Underground use as sidings.
London Underground managing director Nick Brown said: "This new part of the Underground network will support further rapid development in the area. By 2020 we will have built a 400m viaduct, two new stations and numerous new and reconstructed bridges along the route, transforming transport links in Watford. With the funding package complete we're now turning all our attention to appointing contractors, finalising designs and beginning construction in 2016."
Hertfordshire Local Enterprise Partnership has committed £87.85 million to the new line, which is 40 per cent of its total Growth Deal funding from the government.
Herts LEP chairman John Gourd said: "We have worked hard with our partners including Hertfordshire County Council and Watford Borough Council and are delighted to have now reached this exciting stage. The Metropolitan Line Extension will unlock investment in brownfield sites, revitalise existing employment areas and bring considerable job opportunities and economic benefits to Watford and the wider community. As the second largest funder this demonstrates the huge importance that we attach to this project which will help realise our priority to deliver at least 1,400 jobs in the M1/M25 area by 2021."
Reader Comments:
Views expressed in submitted comments are that of the author, and not necessarily shared by Railnews.
Even if the BCR is less than 1.0 other benefits like providing a rail link to a hospital , business park etc and giving the Metropolitan Line a far better terminus at Watford Junction which is an important interchange and may even regain more long distance stopping trains once HS2 is built makes using BCR some rather pointless .

It's also worth noting that much of the funding comes from a Hertfordshire LEP who could have simply allocated this money to roads like many councils do but chose public transport instead .

This extension also makes use of a dis-used rail alignment thus reducing the cost of the scheme while longer term this line may allow a new local service between Watford and Amersham thus bringing further benefits fir Hertfordshire Council .

With a BCR of less than 1.0, this wouldn't be going ahead if it wasn't in the London area. More evidence of London-centric policy-making.