Posted 20th February 2017 | 10 Comments
Last-minute bid to block HS2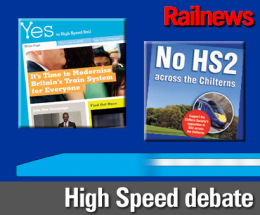 THE complex Hybrid Bill authorising Phase 1 of HS2 is set to return to the House of Commons this week for final approval by MPs before receiving Royal Assent, but two opposing groups have launched a last-ditch bid to block the project before it has been legally authorised.
The two groups are the Taxpayers' Alliance, which refuses to accept the official cost of £56 billion for all phases, including rolling stock, and claims that the figure will be more like £90 billion, and Friends of the Earth, who back high speed rail in principle but say the HS2 routes are badly chosen.
The TA is pointing to other major schemes, such as the Jubilee line extension in London and the Channel Tunnel, both of which cost much more than forecast. However, Crossrail is currently said to be running on time and on budget, defying the view of academic Bent Flyvbjerg, who is Professor of Major Programme Management at Oxford University, and who has defined what he describes as the 'iron law of megaprojects: Over budget, over time, over and over again'.
FoE is unhappy for a different reason -- the lack of a connection between HS2 and HS1. FoE director Craig Bennett told the BBC: "We think the money would be much better spent on a range of much smaller sustainable transport infrastructure projects to deliver real improvements to regular commuters and other train travellers over a far quicker timescale."
The Department for Transport said: "HS2 will become the backbone of our national rail network – creating more seats for passengers, supporting growth and regeneration and helping us build an economy that works for all.
"We are keeping a tough grip on costs and the project is on time and on budget at £55.7 billion."
Reader Comments:
Views expressed in submitted comments are that of the author, and not necessarily shared by Railnews.
Yep, I think HS2 has won this battle at least. Now the sooner they get on, the less it will cost. Crossrail is a great, recent (in fact ongoing) indicator of the UK construction industry to deliver a megaproject on time and on budget. The concern now for those of us who live further north, is making sure phase 2 gets the go-ahead too. I would be all-too-easy to cancel the second phase citing cost concerns once construction for phase 1 had already begun.

One question I have got for anyone who knows more about this than me, what is the reason for there being no intermediate station between Old Oak Common and the outskirts of Birmingham?

Would an additional station, perhaps located near Aylesbury or at the crossing of HS2 and the future Varsity line (Oxford - Cambridge) not be good for regional connectivity and help to bring the benefits of high speed rail to the communities who have to put up with the construction work for years? There are several examples of such rural HSR stations being built in France, particularly on the new LGV Est (Paris - Strasbourg - Germany), where the tracks go from 2 to 4, for a couple of kilometres either side of each station, to allow through trains to carry on past stopping services.

A corrollary to james' point - the current HS2 proposal involves extra costs such as possible long tunnelling under the Chilterns and parts of Greater London, and anti-noise embankments as well as big compensation payments to the stockbroker-belt types in Bucks. and Warwcks.

Most of these extra costs are attributable to the proposed very high speed.

Well it seems the House of Commons supported all amendments to HS2 London -West Midlands Bill by the Lords and the bill has now been sent for Royal Assent meaning work will be able to start on schedule in coming months .

As for comments re need to travel to Euston to use HS2 well for some long distance services that currently begin at Euston that is already necessary given first stop is Euxton Junction!

There will also be Old Oak Common option which will avoid having to come into central London and will be served by many lines including Elizabeth Line and GWR with even Chiltern Railways looking at a route to OOC.





People must not forget a lot of any additional costs are for pandering to peoples whims such as their view of a field will be spoilt if a railway is built. Oh deedums. Think how much extra it will cost to have all the add ons to keep the voters happy. If one takes the railway as an engineered concept with no pandering it will be much cheaper to build and operate. The anticipated benefits (irrespective of anyone who thinks they know what they are talking about) of a new high speed rail link to relieve pressure on current railways surely out ways one persons pretty picture.

"Even if I lived in north London it would still be far quicker to drive to Birmingham rather than travel to Euston and train back out."

Did a quick check on Google maps now. Barnet - Central Birmingham currently works out about 2 hours for either drive or underground + train. And that's before the time saving of HS2.

The time saving between London and Birmingham is the least important benefit of HS2 anyway, but the claim that driving North London to Birmingham is "far quicker" fails the most basic scrutiny.

A link between HS2 and HS1 would only have made sense if the UK had signed up to the Schlengen Agreement. Given the insular mindset of UK politicians, unfortunately that was never going to happen, even if sense had prevailed and the idea of running away from the EU had been kicked into the long grass.

Stuart, from the outset there will be services to the North of England and Scotland via HS2, and when Phase 2 is complete, the major flows to Manchester and Leeds will be operated on HS track throughout. Euston is served by five tube lines and a number of suburban rail services. Old Oak Common will be served by Crossrail, Overground and still more suburban rail services, so HS2 will actually be within reach of many people.

It might be quicker for you to drive somewhere, but many people don't have cars or want to do something constructive while travelling, so your alternative suggestion of driving is not practical for a large number of people.

I do rather tire of people misrepresenting HS2, then denigrating it on the basis of the misrepresentation.

I take it the Taxpayers Alliance figure is the same £90 billion total which was based on schemes like Crossrail 2 and many other schemes none of which were related to HS2 as they say " been there done that disproved already ! "

While the £55 billion includes a massive sum for contingency an item that Crossrail has not had to use and is now in the finishing straight ..

As for HS2 to HS1 link all that has been done is the scheme planned when HS1 was built to use the North London Line to connect HS1 to HS2 with a single track link costing £700 million has been abandoned both because North London Line has seen a massive increase in use since the Overground concept was introduced and it was conspired not financially sensible to spend hundreds of millions on a link which could prove inadequate only a few years after completion.

We now have a clean sheet to develop a link which would be double track and fit for purpose in the 22nd Century!

Putting aside the costs, the environmental devastation, and the years of disruption and misery that will be created during the decade of construction, how can phase one hs2, possibly work when passengers can only get on the train at London or Birmingham? Even if I lived in north London it would still be far quicker to drive to Birmingham rather than travel to Euston and train back out. It seems as if the ticket prices are going to be prohibitive so who is going to use it, I'm guessing it will be a very small cross section of city dwellers, the metropolitan elite perhaps?