Posted 16th February 2017 | 1 Comment
ASLEF referendum result today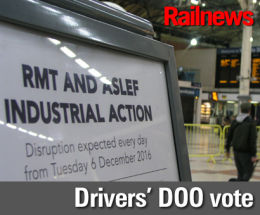 Strike ballot over DOO is launched on Northern
THE result of a referendum of more than 900 ASLEF drivers on Southern over a DOO deal is expected today.
If they have accepted the agreement thrashed out between their union and Southern's owner Govia Thameslink Railway at the TUC, only the RMT will remain opposed to the replacement of conductors with on-board supervisors.
A refusal by the drivers to accept the recommendation of ASLEF's executive could trigger a new period of uncertainty and the possibility of further major disruption.
Although the details of the agreement reached at the TUC on 2 February were not revealed immediately, it is now known that the controversial list of 'exceptional circumstances' when a train may run without a second member of staff has survived. The RMT is particularly angry that the list of exceptions includes staff absence due to industrial action.
The RMT has called a new walkout on 22 February, saying that Southern had been 'pig headed' during new but unsuccessful talks this week. Southern countered that the union had been 'obstinate'.
Meanwhile RMT members on Arriva North are being balloted from today for both strikes and action short of a strike after the company had 'failed to give assurances on the future role of conductors on their services', according to the RMT. More than 1,200 staff will be involved in the ballot, which will close on 28 February.
RMT general secretary Mick Cash said: "The union's position on DOO is perfectly clear. We will not agree to any extensions and will fight to retain the safety critical role of the guard and to keep a guard on the train.
"We asked Arriva North whether they were prepared to guarantee a second person on all passenger services operated by the company and whether that second person would retain full operational responsibility, for train despatch, platform-train Interface and current rule book requirements for dealing with contingency arrangements, such as evacuation and protection of the train.
"The response from the Company was 'we are not in a position to offer either of these guarantees at this present time'.
"Ballot papers will go out today with the RMT calling for a resounding Yes vote. The union remains available for talks."
Reader Comments:
Views expressed in submitted comments are that of the author, and not necessarily shared by Railnews.