Posted 23rd January 2017 | 1 Comment
Strike laws proposed as Southern conductors walk out again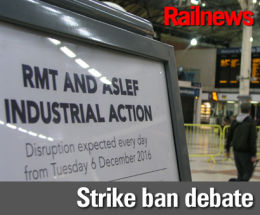 UPDATED 09.28

A BAN on strikes which have not been approved by a judge is to be considered by MPs tomorrow.
The proposed law, introduced under the Ten Minute rule by Croydon South MP Chris Philp, would make rail strikes more difficult to stage and also reduce their effects, because a skeleton service would have to be maintained.
RMT conductors are striking on Southern again today in the driver-only operation dispute, although ASLEF drivers' strikes which had been called for three days this week have been suspended for fresh talks at the TUC.
Southern had appealed to the RMT to suspend today's strike as well. Passenger services director Angie Doll said: "The RMT is continuing with industrial action that is now pointless. Because of the changes we've now finished making we're able to run 200 more services - a further 10% increase than previous RMT strike days - on more routes serving more passengers.
"Sadly, our passengers once again face disruption because of the RMT's intransigence and refusal to suspend action and engage in meaningful talks. We remain ready and willing to meet for face to face talks to end their dispute and move forward to deliver a better railway for passengers."
More services are expected to run today than in previous conductors' strikes, because the driver now controls the doors on four out of five trains.
The proposed legislation has been proposed by Chris Philp because the MP maintains that the unions have 'abused' their rights by staging action which is 'completely unreasonable'.
Mr Philp, whose Industrial Action (Protection of Critical National Services) Bill will make its first appearance in the Commons tomorrow morning, said: "A High Court judge would weigh up what it is the strikers are striking over on the one hand versus the impact on the public on the other to make sure it is reasonable and proportionate. All it is looking to do is it recognises the right to strike, but it just says that the general public also have a right to get to work and to get home to see their loved ones.
"What I want to see is a balance between those two rights. At the moment, for example on the Southern Railway strike, we have lost that balance. The dispute is over who presses a button to open and close the door yet the strikes are stopping 300,000 people getting to work so that's not reasonable and it's not proportionate, it's not balanced."
Mr Philp also said he is not expecting many MPs to oppose his plan. He added: "I would be astonished if anyone stood up and said that they supported strikes that were unreasonable and disproportionate."
There has yet to be an official response from the rail unions, but the proposed law has been described by an ASLEF source as 'outrageous', according to a report in the Morning Star, which quoted the source as saying: "This proposal is clearly outrageous. We are not galley slaves.
"We are taking perfectly lawful strike action and have been given a huge mandate to do so from our membership.
"We are a member-led organisation. The Tories think the answer to that is to change the law and redefine the status of rail workers to prevent them from striking."
Meanwhile, the RMT has claimed that at least 'six times as many' trains are running without an on-board supervisor as Southern had predicted, accompanied by concern about the implications for less able passengers when driver-only trains call at unstaffed stations.
RMT general secretary Mick Cash said: "Not only does the new OBS role deprive passengers of key safety protections that were provided by conductors, it also means there will be regular instances of the Driver being on their own and passengers being deprived of the guarantee of assistance and protection they once had.
"The reality is that the government's policy of driver only trains not only worsen service and safety it also reduces accessibly. Ministers' refusal this week to agree to the Select Committee's call for an impact assessment on Driver Only Trains shows that the government have now abandoned their policy of a railway that is accessible for all."
Reader Comments:
Views expressed in submitted comments are that of the author, and not necessarily shared by Railnews.