Posted 3rd January 2017 | 4 Comments
Protests over 'kick in the teeth' fare increases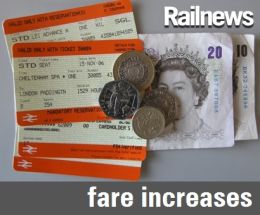 DEMONSTRATORS are out in force at stations today, following the introduction of the 2017 rail fare rises.
These are based on a 1.9% increase for regulated fares in line with the Retail Price Index in July 2016, but the average increase for England and Wales, taking all fares into account, was slightly higher at 2.3 per cent, according to the Rail Delivery Group.
The Campaign for Better Transport has described the effect on passengers as a 'kick in the teeth', Labour described the rises as 'truly staggering', while the consumer group Which? said they were 'a bitter pill to swallow'.
The Labour Party calculated that most season tickets had risen in price by 26 or 27 per cent since 2010, when the coalition government had been elected, but also identified some exceptional cases in which the cost had risen by as much as 43 per cent.
The Rail Delivery Group pointed to the need for investment in the system, while the transport secretary Chris Grayling said there was a 'fair balance' between the contributions made by passengers and general taxpayers. The proportion of support has changed from 50:50 ten years ago to around 70:30 now, with the extra contribution from passengers being collected by increasing fares above inflation over successive years. However, fares in England are now being frozen at each July's RPI until the end of the present Parliament in 2020, and in Wales until at least October 2018, when the current Arriva Trains Wales franchise ends.
In Scotland, regulated peak hour fares have also risen by 1.9 per cent but off peak fares went up by 0.9 per cent, having been unchanged for the last three years, while holders of annual and monthly season tickets will receive a week of free travel.
The Scottish Labour Party had called for a complete freeze on fares, but transport minister Humza Yousaf said: "We want to reward passengers for their continued custom and patience while we deliver our extensive programme of improvements, and so I have announced a £3 million fare initiative in 2017 which will give one week's free travel to monthly and annual season ticket holders, worth more in cash terms than a fares freeze."
Campaigners in England are unhappy about any rises in fares, particularly while performance continues to be poor in some areas. In Sussex and neighbouring counties disruption of Southern services is continuing as a result of prolonged industrial action in the DOO dispute, although Southern season ticket holders are being compensated.
Lianna Etkind of the Campaign for Better Transport, said: "Many commuters are now being charged at a similar level to a premium rate phone number for their season tickets and are left feeling equally as fleeced. It's high time the Government introduced a fairer ticketing system that actively encouraged rail travel, not penalised people for choosing to take the train."
However, Rail Delivery Group chief executive Paul Plummer said: "Increases to season tickets are set by government. Money from fares is helping to sustain investment in the longer, newer trains and more punctual journeys that passengers want."
Reader Comments:
Views expressed in submitted comments are that of the author, and not necessarily shared by Railnews.
"Imagine what the demand would be if we had fares similar to France at a sixth of UK fares."

Way more than the capacity of the Brighton Main Line, I'll bet that much. If you're prepared to pay a substantial amount extra tax to heavily subsidise commuter fares , and more tax still for the massive infrastructure improvements needed to accommodate the extra passengers, I'll take that proposal seriously. (After all, most of continental Europe runs on more tax for more public spending.)

If, however, you think that nationalisation will do all that for you, I'd say you haven't thought things through.


People are now being priced off the railways and companies are using prices to manage demand and reduce peaks overcrowding. I have been priced out of a job in London and now work locally thanks to Southern/GTR.
Train company's are reluctant to spend money to increase capacity and the government is insisting that the traveling public pay increased fares to pay for improvements even though there are a record number of people using the system. Imagine what the demand would be if we had fares similar to France at a sixth of UK fares. That would get people out of their cars and using trains with the reduction of pollution!

Sorry the rail industry is in a real mess at the moment and it needs someone to take control and sort it out. I am not a fan of nationisation but currently privatization isn't appearing to work especially in Sussex!

Martin

If the money from increases in fares is supposed to sustain investment in better railways then this explains why there is no change to services in Greater Manchester. because Piccadilly & Victoria stations are the two biggest centres for fare evasion on a grand scale each and every day, with routes of evasion on both stations for passengers who intentionally do not buy tickets. I have reported this many times but both stations don't seem to be interested in increasing revenue. Also when passengers board a train after passing an open ticket office this is an offence but yet when they buy a ticket on the train the penalty is not charged. PLUG THESE GAPS.