Posted 13th July 2016 | 3 Comments
Contactless export deal will help London fares freeze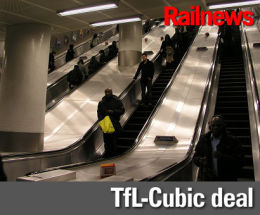 FARES on Transport for London services will be kept down over the next four years by a deal to export contactless technology worldwide, said TfL.
A deal has been signed between TfL and smartcard contractor Cubic Transportation Systems to provide the technology which underlies the contactless system to cities around the world.
The introduction of contactless payments followed the Oyster card, which was introduced 13 years ago, when its adoption was encouraged by creating a significant gap between Oyster fares and those which applied to passengers paying cash.
TfL says only 3 per cent of Underground passengers still pay cash, while coins and notes are no longer accepted on the capital's 600+ bus routes
TfL said the deal is the first of 'a number of planned agreements to sell TfL's expertise both at home and abroad', recalling the former consultancy arm of London Transport which advised foreign operators for many years. LT's clients included the designers of the underground system in Moscow before World War 2.
The licence will grant Cubic access to London's contactless system, allowing it to be specifically tailored for other world cities.
London Mayor Sadiq Khan, said: "I made a firm commitment to sell Transport for London's expertise around the globe. We will use the income from those deals for further investment in new infrastructure and to freeze TfL fares".
TfL said more than 500 million journeys have been made using more than 12 million unique credit and debit cards from 90 different countries, as well as contactless-enabled mobile devices. Around one in 10 contactless transactions in Britain are made on the TfL network, making it one of the largest contactless merchants worldwide. The contactless system runs alongside the longer-established Oyster smartcard, which needs to be topped up with credit before travel.
Cubic already provides smartcard ticketing technology to a number of cities, including Sydney, Brisbane, Vancouver and Chicago. TfL said this 'new non-exclusive agreement will also enable them to combine the best features from the London and other Cubic systems and make them available to other cities across the globe'.
Shashi Verma, chief technology officer at TfL, said: "We're delighted to have agreed this licensing deal with Cubic Transportation Systems. Contactless payments have completely transformed the way people pay for travel in London, and this deal will allow other world cities to benefit from the hard work we put into making the system work."
Reader Comments:
Views expressed in submitted comments are that of the author, and not necessarily shared by Railnews.
Why has this not been done before?

Wish they'd done this for the Pop Card in Tyne and Wear. It's okay, but there's various teething problems and a massive amount of time to roll this out on to the buses, seemingly because they want to re-invent the wheel.