Posted 6th December 2016 | 6 Comments
Grayling urges an end to rail maintenance confrontation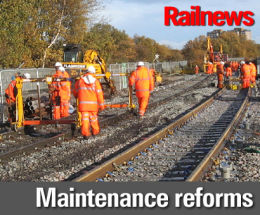 TRANSPORT secretary Chris Grayling has told Railnews his reforms of railway maintenance, to be formally unveiled later today, are intended to get people around the same table rather than 'throwing contracts at each other'.
In a speech to the think tank Policy Exchange this evening, he will spell out plans to make franchised operators more responsible for infrastructure maintenance.
However, speaking in advance of the event, he dismissed any idea that Network Rail will be 'stripped of its powers', as some early reports had claimed. Although there will be greater devolution to the individual routes, management of the infrastructure will remain with Network Rail.
He will tell his audience: "We will establish 'East West Rail', a new and separate organisation to Network Rail. It will lead to the creation of Britain's first new integrated rail operation for decades.
"For example; the new franchises due to be let on South Eastern and East Midlands will be an integrated operating team between train services and infrastructure.
"Our railway is much better run by one joined up team of people. They don't have to work for the same company. They do have to work in the same team. We want to see closer working across the industry, to resolve problems more quickly -- putting the needs of the passenger first."
Mr Grayling is using the experience already gained within Network Rail Alliances to build his new organisations. The 'deep' Alliances are the closest model, but in future operators will play a greater part in maintaining the railway they use.
He explained to Railnews: "Look at Crossrail today, Crossrail is made up of a variety of people from different organisations working together as a team. I am trying to get away from a position where if something goes wrong people people throw contracts at each other rather than working together to sort it."
He has also dismissed the prospect of returning Network Rail to the private sector, saying: "I am not breaking up Network Rail to privatise it. We have a railway that is bursting at the seams and facing challenges. One of the challenges facing Network Rail and the operators is planning around each other, so I think you will get broader efficiency. I think the real benefit is a railway that is more responsive to consumer needs, better at responding to challenges. My basic premise is that we have a railway that is bursting at the seams, that is facing some real challenges, as a result of the scale of growth in passengers.
"There are only two ways you can respond to that. One is by increasing capacity, which we're doing in a number of ways, ranging from Crossrail to longer trains on South Western and by building the Ordsall Chord in Manchester. The other is to create something which operates more efficiently and more effectively."
Network Rail chief executive Mark Carne has 'strongly welcomed' the new approach.
He said: "We have already devolved Network Rail into route-based businesses closer to customers, and the proposals announced today will build on the alliances we have created between these route businesses and train operators. We also strongly believe there should be better alignment of incentives between train companies and Network Rail. That is why we now align the performance incentives for all of Network Rail's 35,000 staff, around targets agreed jointly with train operators. But more needs to be done across the industry.
"Network Rail's published transformation plan is moving us to being a public sector body that acts like a private business, with a clear focus on what customers want."
"Competition must be at the heart of any organisation that wants to behave like a private sector business. Competition breeds efficiency and innovation and will further encourage our own teams to push aside the barriers holding them back. That is also why I announced last month that Professor Peter Hansford will chair an independent review into the barriers to competition in all elements of delivering rail engineering projects."
Mark Carne has already announced the creation of Boards for each of the devolved route businesses, involving passenger representatives, and these boards will oversee the running of the railway in their areas.
However, the reforms have concerned the RMT. The union's general secretary Mick Cash said: "There is no question at all that this plan represents the piecemeal privatisation of Network Rail which over a period of time will see both train operations and track run by the same bunch of companies who have failed so abysmally over the past two decades.

"The idea that what Britain's railways need is more privatisation is ludicrous. The introduction of the profit motive into infrastructure raises again the spectre of Hatfield and Potters Bar."
Reader Comments:
Views expressed in submitted comments are that of the author, and not necessarily shared by Railnews.
I guess Chris Grayling's aspiration for cooperation rather than confrontation here is laudable, but it is difficult to see just how this can be achieved in practice. It is only likely if it is made in both the TOC's and NR''s interests to do so ( incentivisation of some sort)..

If there is passenger representation on the boards of the devolved routes, will this include the 'virtual route' for Cross Country?

Welcome news. The taxpayer should not be funding Network Rail's largesse as it mismanages the network. Let's get back to the situation pre-1948: full vertical integration, with TOCs managing their own infrastructure without govt interference.

At least with the present system if something goes wrong and an accident occurs especially with fatalities we have a single body Network Rail to hold to account so who will take blame especially on tracks with multiple users like the ECML and WCML ?

We have also seen the one of the major benefits of having a single body like Network Rail is the ability to purchase expensive equipment like the HOPs system which can in due course reduce total costs .

We have had the example of the Network Rail SWT alliance but saw how disagreements arose and how with the end of the franchise approaching the alliance fell apart . Something that shows how short term franchises are not suitable for long term alliance working.

Of course Scottish railways could be transferred to the Scottish Government allowing them full control over their network.

And while we read this we have news that no further services in London are to be passed to TFL to operate which looks more like being a bad loser given how Northern England services are being transferred to local control !



While I agree that TOCs need more flexibility to operate their own infrastructure, I'm very uncomfortable about the precedent this will set when it comes to operators prioritising their most profitable routes.

In a sense, Network Rail, alongside the DfT, are a safety net for rural networks which would no-doubt be binned off as unprofitable liabilities in the event that an operator ever had more flexibility over the terms of its franchise. Currently, of course, franchises are rigid, and bidders must commit to run all routes covered in the tendering process. There are a great many routes - I'm talking the Cumbrian Coast, byways in the East of England and the many community rail routes already being propped up by local authorities for starters - which would be axed in a heartbeat if the opportunity arose for the TOC to save a few bob. Should the cost of maintenance and investment end up outstripping the track access charges they currently pay, the drive to cut unprofitable routes will only increase.

I am aware that this is merely an infrastructure-based move, and I'm in favour of it in isolation, but to me it looks like a dangerous first step towards a damaging liberalisation of the railway sector's operations. That will be fine for top link routes, disastrous for rural lifelines.