Posted 5th December 2016 | 2 Comments
'Don't travel unless you must' warning as more DOO strikes loom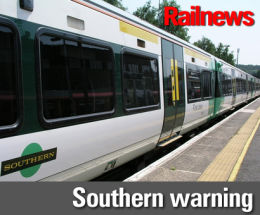 SOUTHERN has issued its bleakest warning yet, as a series of industrial actions threaten to disrupt services 'significantly' in the runup to Christmas. The company is describing the forthcoming walkouts as 'wholly unnecessary and unjustified'.
The RMT, on the other hand has called for 'this basket case of a franchise' to be terminated.
An indefinite overtime ban by ASLEF drivers starts tomorrow, coinciding with the first of three days of strikes by RMT conductors in the continuing driver-only operation dispute.
ASLEF drivers will also start to walk out from next week, potentially bringing Southern to a virtual standstill when they do, because more than 95 per cent of Southern's drivers are said to be members of that union.
In addition, RMT members are also staging 24-hour strikes on the Piccadilly and Hammersmith & City line of London Underground from tomorrow evening, in separate disputes with Transport for London. The RMT has called for the launch of Night Tube on the Piccadilly, set for 16 December, to be delayed because of a shortage of trains on that line caused by autumn leaf damage to wheels. The union has also urged that daytime services should be suspended as well, after receiving reports of severe overcrowding at Piccadilly line stations as a result of the longer headways.
Govia Thameslink Railway, which runs Southern, has attempted to avert the worst effects of the scheduled walkouts on its services by asking the High Court to rule that the ASLEF action is illegal. That case is expected to be heard on Wednesday, but even if an emergency injunction is granted members of the RMT would still be able to continue with their strikes, and recourse to the courts will do nothing to heal the underlying dispute about converting most conductors' jobs to 'on-board supervisors' who will not control the doors nor dispatch trains.
The unions say DOO is unsafe and should not be extended, a claim which has been denied by GTR, the RSSB and other industry bodies, who point out than almost one in three trains on National Rail are already worked in this way. GTR also argues that DOO will improve performance and make the railway more efficient, which is the reason for the changeover.
Unless the High Court intervenes, the combination of strikes and a drivers' overtime ban will cause the most disruption yet seen on Southern in the DOO dispute, with expectations that strikes by drivers would virtually close the network except where other operators serve some stations, such as Thameslink between Brighton and London.
The staff of operators like Thameslink are not involved in the action, but on the worst days their trains could become critically overcrowded, and Southern is asking its passengers not to travel then unless they must.
Southern's deputy chief operating officer Alex Foulds said: "Regrettably, because of this wholly unnecessary and unjustified industrial action, there will be severe and significant disruption on our network from next Tuesday and customers are advised that stations will be incredibly busy.
"If passengers can make alternative travel arrangements they should, and if they don't have to travel they shouldn't. If the drivers' strikes go ahead, there will be no services on Southern and customers should not attempt to travel.
"We're doing everything we can to stop the drivers' strike and that's why we a seeking an injunction in the High Court. This industrial action is a clearly co-ordinated and cynical manoeuvre by the unions to bring yet further travel misery to passengers as well as having a detrimental impact on the regional economy when it least needs it.
"If the unions are listening to passengers then they will call off all industrial action now and give hardworking commuters and their families their lives back."
ASLEF drivers are due to strike on 13, 14 and 16 December, and from 9 to 14 January inclusive. ASLEF also said its members would not perform any 'non-contractual duties' from tomorrow (6 December). RMT conductors are set to strike from tomorrow until 8 December, then on 19 and 20 December followed by 31 December to 2 January.
Reader Comments:
Views expressed in submitted comments are that of the author, and not necessarily shared by Railnews.
If this is only due to effect southern services, why are a lot of Thameslink services cancelled on 06-12-16

[I've been trying to think why that might be. There are some cancellations most days on Thameslink, but tomorrow morning's service both sides of the river looks reasonable on NRE. What is your source?--Editor.]