Posted 15th November 2016 | No Comments
Network Rail promises 'careful review' of viaduct report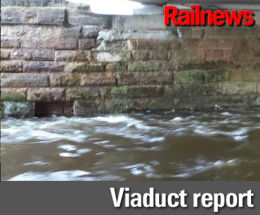 A SAFETY review may follow a report into the failure of Lamington Viaduct on the West Coast Main Line which revealed that a safety system monitoring over 100 bridges in Scotland had lapsed, following organisational changes.
Network Rail has promised a 'careful review' of findings published by the Rail Accident Investigation Branch.
Lamington was badly damaged by exceptional river levels caused by Storm Frank at the end of last year.
The effects of 'water scour' damaged the central pier, but although a driver had reported a track defect early on New Year's Eve, when safety engineers checked the structure they found no 'significant defects'. In spite of this, 'large track movements' were then reported by the driver of a following train.
A speed restriction was re-imposed, and a further check disclosed that the river bed beneath the central pier had been eroded dangerously. The bridge, which spans the River Clyde between Carlisle and Lockerbie, was then closed for major repairs which took until 22 February.
The viaduct was on a list of 'vulnerable structures', but a special procedure of making regular checks had fallen out of use.
Chief inspector Simon French of the Rail Accident Investigation Branch said: "It is of particular concern to me that the vulnerability of this structure to scour had been identified at least 10 years previously.
"Despite this, insufficient action had been taken to protect the piers from scour or to monitor the integrity of the viaduct at times of high water flow.
"The continued operation of trains over this high-risk structure, despite a previous report from a driver of a rough ride, provides vivid evidence that the risk of scour was not generally appreciated by those involved. Of even more concern was our finding that there were no effective scour mitigation measures in place for over 100 of the most vulnerable structures across Scotland.
"We discovered that a previous process for managing scour risk on Scotland route had fallen into disuse, at least in part due to organisational change, and that this had not been recognised by Network Rail."
Earlier this year, the RAIB asked Network Rail to take action when scour risk was a hazard.
A spokesman for Network Rail said: "The safety of passengers, and rail workers, is of vital importance to Network Rail and we have already made significant changes to our management and maintenance of scour-risk structures in Scotland since Lamington.
"We have invested over £3 million so far this year to reduce scour-risk at high priority structures and have carried out 277 specialist underwater examinations to assess the foundations of bridges ahead of this winter.
"We have also identified 50 bridge sites where we will roll-out telemetry equipment, to help monitor the impact of flooding on the network and to improve early identification of potential issues."