Posted 24th October 2016 | No Comments
It's goodbye to ATOC in industry shake-up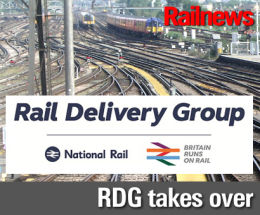 A RAILWAY industry organisation created in the early years of privatisation and which has played a key role for more than 20 years has disappeared today.
The Association of Train Operating Companies was set up in June 1995, several months before the first franchises were awarded, but it has now been merged with the much newer Rail Delivery Group.
The RDG was one result of the 2011 McNulty report into railway finances, and it soon took over the management of the railway's 'public face' from ATOC, producing media releases and statements on behalf the industry. It also provided a single forum for the train operators and Network Rail for the first time, alongside closer contact with the Department for Transport.
ATOC has continued to run several internal services behind the scenes until now, including the allocation of passenger revenues carried out by Rail Settlement Plan, the provision of National Rail Enquiries and the management of travel facilities for around 400,000 active and retired staff.
However, the title ATOC has now been discontinued with effect from 24 October. The RDG said there would be no changes to how the activities formerly carried out by ATOC are funded.
The reform follows feedback from stakeholders, members and staff. The RDG has also emphasised the changeover by launching a new logo.
RDG chief executive Paul Plummer said: "This is an important development for our organisation. The Rail Delivery Group has a key role to play in bringing the industry together to address the tough challenges it faces and ultimately, in enabling rail companies to succeed in delivering the great railway we all want. To best fulfil that role it's important that our stakeholders and members have a better understanding of the broad range of services we provide and that means having a single name."