Posted 19th October 2016 | 3 Comments
Eurotunnel prepares to sell GB Railfreight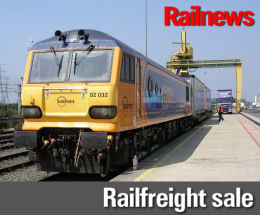 GB RAILFREIGHT is set to be sold by Eurotunnel, which bought the business from FirstGroup in 2010. Since then, GBRf has been part of Eurotunnel's railfreight subsidiary Europorte.
EQT Infrastructure has made an 'irrevocable offer' to acquire GBRf – the third largest railfreight operator in Britain.
The potential buyer said the move was 'an integral part of EQT's strategy to create a leading independent pan-European railfreight operator'.
GB Railfreight employs 650 people and operates more than 1,000 trains a week, which between them carry a sixth of all railfreight in Britain.
John Smith, who has run the company since he founded it in 1999 and is now facing the likelihood of reporting to a fourth owner, said: "We would be very pleased with EQT as our new owner and strongly believe that EQT's industrial approach and network, extensive rail freight experience and access to capital would be of valuable support to GB Railfreight in our continued growth ambitions."
The offer has been made by EQT through an indirectly owned company within the Hector Rail group. Hector Rail's chairman Bo Lerenius said: "We look forward to working in close partnership with GB Railfreight's management team to support the company in its continued growth ambitions."
The purchase is subject to consultation with Groupe Eurotunnel's staff representative bodies. After that the deal is likely to 'move forward quickly' with binding agreements, according to EQT.
Reader Comments:
Views expressed in submitted comments are that of the author, and not necessarily shared by Railnews.
I may be proved wrong but suspect GBRf might be acquired by one of the other operators. I doubt if any other independent British organisations would have an interest in purchasing a company that has been chasing a dwindling UK rail freight market, against tough competition.

Is this the same Eurotunnel that we had a share in before 'Dave' sold it off to his pals? thought so and what a short sighted move seeing that GBRf is the best freight company in the UK,so another round of redundancies then
talk about if it isnt broke why fix it

[No: you are thinking of Eurostar. The British government has never owned any part of Eurotunnel (nor GBRf). GBRf was originally set up in 1999 by GB Railways, which also held the Anglia Railways passenger franchise. When FirstGroup failed to make the shortlist for the succeeding Greater Anglia franchise in 2003, it bought GB Railways (which had been shortlisted). Although GB Railways failed to win the GA franchise, First kept GBRf until 2010, when it was bought by Eurotunnel (Europorte).--Editor.]