Posted 13th October 2016 | 4 Comments
Delay compensation threshold halved to 15 minutes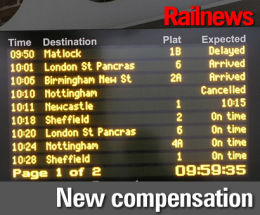 THE government is tightening up the rules for compensation when trains run late, with the compensation window being halved in future from 30 to 15 minutes. The move has come less than a fortnight since the Consumer Rights Act came into force on railways.
The first operator to introduce 'Delay Repay 15' will be Govia Thameslink Railway, where a strike of Southern conductors is underway in the long-running DOO dispute. The DfT said the new rules would be introduced on GTR 'within months'.
Passengers will be able to claim 25 per cent of the cost of the single fare for delays between 15 and 29 minutes. The existing compensation thresholds will apply for delays of at least 30 minutes.
Transport secretary Chris Grayling said: "We recognise that, above all else, passengers want a reliable train service, but when things do go wrong it is vital that they are compensated fairly. 'Delay Repay 15' is a major improvement for passengers and we are working with train companies to make it as easy as possible for passengers to claim their rightful compensation.
"Together with the Consumer Rights Act, this policy shows we are putting passengers first and making sure they receive due compensation for poor service."
'Delay Repay 15' will be extended next to the new South Western, West Midlands and South Eastern franchises.
The DfT said all its future franchise competitions will include this policy, while the possibility of extending it to all current DfT franchises retrospectively will be 'explored'.
'Delay Repay' is currently operated by most operators. A number of existing franchises, including Virgin Trains West Coast and c2c, have also introduced automatic compensation for certain types of ticket.
Reader Comments:
Views expressed in submitted comments are that of the author, and not necessarily shared by Railnews.
How will this work when your journey involves multiple operators? I travel all over the country by rail on business. The delayed or cancelled (Southern) !rain may only be a very small part of this; presumably I would only get compensation for this bit, not the whole journey, even though a 15 minute delay here can mean you arrive hours late at your destination.

Its a shame that the unions cannot be made to pay for the delays they are causing to southern users, or even made to pay for passenger compensation when they strike.

This is all very well, but the paperwork required for compensation for season tickets versus the money you actually get is so cumbersome it's not worth bothering.

I'd much rather the DfT got a move on with automated compensation.