Posted 5th September 2016 | 7 Comments
Electric GWR services launched from Paddington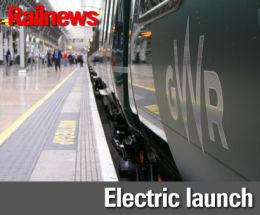 ELECTRIC GWR trains have started running for the first time.
GWR said four Bombardier Electrostar sets running as two eight-car formations launched the service between London Paddington and Hayes & Harlington today, with the first train leaving Paddington at 07.15. The inaugural up service left Hayes three minutes later.
The launch marks a notable landmark in the often controversial project to electrify the Great Western Main Line, although the first electric trains are relying on overhead equipment which was installed almost 20 years ago for Heathrow Express. There are hopes that the new electric services can be extended to Maidenhead and then on to Reading by 2017, which is also set to become the western terminus of the Elizabeth line the following year.
The section from Reading to Didcot has already been energised for testing new Hitachi Intercity Expresses, and installation of an overhead 'conductor rail' through the Severn Tunnel is due to start next week. Trains between London and South Wales will then be diverted via Gloucester until late October while the tunnel is closed.
GWR said the first Class 387 Electrostars, which have been built at Derby, will provide an additional 1,400 seats between Hayes and Paddington at the busiest times. Another 41 four-car sets will join them over time, gradually displacing the three-car Class 165 diesel units which have been running on Thames Valley routes since the early 1990s.
GWR managing director Mark Hopwood said: "The Thames Valley is one of the most popular rail corridors in the UK. We have promised the current fleet would be upgraded to provide much needed additional capacity and faster journey times."
The 387s are similar to those which have been in service on Thameslink since early 2015. 387s are also being introduced on Gatwick Express and c2c. The Electrostars, which will be the last of the type to be built, have power sockets, air conditioning and free WiFi. They will able to run on GWR routes in four, eight or 12-car formations.
GWR said the diesel Turbos will be cascaded further west, where they will displace Class 158s on routes between South Wales, Bristol and Southampton. The 158s, in turn, will move to Devon and Cornwall.
Reader Comments:
Views expressed in submitted comments are that of the author, and not necessarily shared by Railnews.
Hopefully another cascade could be some 8 car HSTs to CrossCountry which could release Voyagers to shorter distance services more suited to them. Also could not something sensible be done with theClass 442s even if they were loco hauled for instance using them on the Waterloo to Exeter services in pairs with that train being split at Salisbury and going to Exeter as a single 5 car unit. I am sure that there are probably enough surplus Class 67s for the job. This would release enough Class 159s to make the Exeter to Plymouth/Penzance line intermediate services almost totally Class 158/159. With the remaining 150s used on the branch lines.

45 Class 387's will replace the Class 165's & Class 166's used on the Thames Valley routes and Reading-Guildford-Redhill-Gatwick Airport North Downs Line route which is due to be electrified with 750v 3rd rail with certain parts already electrified with DC 3rd rail and the Class 387's could go as far as Oxford, Newbury and possibly Swindon as the electrification is still on going.

There have been substantial improvements at both Paddington and Paddington Underground stations.

Platform 14 at Paddington has been extended and electrified ahead of the introduction of the Bombardier Class 387 Electrostars on the Great Western Main Line from September, as well as electric trains between Hayes & Harlington and Paddington.

A £79m contract for re-signalling work between Reading and Paddington has been awarded to Alstom. Amey has won a separate £11m contract for power supply work between Paddington and Hayes and Harlington.

Am I right in thinking that every single metre of this journey is on track that was already electrified for Heathrow and that as such it is not connected to the GWML electrification?
[Indeed, which is why we noted that 'the first electric trains are relying on overhead equipment which was installed almost 20 years ago for Heathrow Express'. Not sure that needs further clarification, really. Editor.]

I truly love that comment, "There are hopes that the new electric services can be extended to Maidenhead and then on to Reading by 2017!" How truly inspiring!! Lightning work then! Probably more like 2018 or even 2020!!

"gradually displacing the three-car Class 365 diesel units which have been running on Thames Valley routes since the early 1990s.".

Don't you mean Class 165 diesel units?

[Yup. Slip of the {digital) finger. -- Editor]