Posted 1st September 2016 | 10 Comments
DfT announces £20m improvement fund for Southern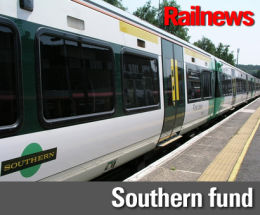 UPDATED 14.50

THE government has announced the appointment of a senior industry figure who will lead a recovery programme for Southern, as its parent Govia Thameslink Railway faces more strikes next week.
There will be new public funding for Southern worth £20 million, which will mainly pay for better train maintenance, more staff at key stations and additional rapid response teams to deal with breakdowns. Almost a million pounds will also be spent on reducing the effect of bridge strikes.
The government said GTR and Network Rail must 'work together to resolve issues earlier and ensure a better service for passengers'.
However, the move has been condemned by the RMT and greeted with caution by transport campaigners.
Chris Gibb, formerly of Virgin Trains and now a non-executive director at Network Rail, is to be in charge of a project board working with Southern, the Department for Transport and Network Rail. Its main task will be to consider how services can be 'rapidly improved', according to the DfT. The new board, announced by transport secretary Chris Grayling, will also include a passenger representative to put forward users' views.
Southern had already announced that it would be easing its emergency timetable from Monday (5 September) by restoring 119 of the 341 services suspended in early July in a bid to match the timetable to the available staff resources, as conductor sickness continued to be a problem.
More industrial problems are looming, as strikes are planned for next week on 7 and 8 September in the continuing dispute over extensions of driver-only operation. However, the strike in protest at changes to ticket office hours at more than 80 Govia Thameslink Railway stations set for 7 September has now been called off, after the RMT agreed to a closely-monitored trial at eight stations.
Transport secretary Chris Grayling said: "I want the Southern network to be run by a team of people who work together to make sure passengers get decent journeys and that problems are dealt with quickly. This review will suggest how we achieve a joined up approach to running the train and tracks and make things work better for the public.
"We also need to get to grips with things that go wrong on this part of the network. That is why we are putting in place a £20 million scheme to tackle the cause of breakdowns that too often cause frustrating and damaging delays on the network.
"I now urge the industry, the train operating company and unions to work together to improve services for passengers."
Chris Gibb said he was looking forward to the task, adding: "Committed railway people across the industry work hard round the clock to provide the best possible service to a growing number of passengers, during a time of much needed major investment. I will bring together the energy of these people to find ways to improve the delivery of this service in the short and medium term."
The decision to invest £20 million of public money has been greeted with hostility by the RMT, which has consistently called for Southern to be renationalised. General secretary Mick Cash said: "This stinks of another multi-million pound taxpayer subsidy to bail out the failing Southern rail part of the Govia Thameslink franchise. If there's money to prop up this private outfit why isn't there cash available to make sure that the guards and safety are protected on their trains?

"If this huge chunk of money was allocated to maintaining the safety-critical role and the jobs of the train guards on the Southern services we could have avoided the strike action that has been forced on us again next week."
Meanwhile, rail campaigners have given the transport secretary's decision cautious approval.
Lianna Etkind of the Campaign for Better Transport said: "This is a welcome if delayed intervention from the Government. Targeted investment, better management and stronger passenger involvement will all help in getting Southern back on track. Passengers who have endured months of cancellations and delays will want the Government to go further though, particularly as commuters are still set to see their fares go up next year.
"As well as a fund for Southern, there should be a fund for passengers to compensate them for the disruptions they've suffered so far, and season ticket fares must be frozen next year so commuters aren't paying yet more for a beleaguered service. And we also need a Passenger Assembly where government, union representatives and Southern managers can answer directly to people and hear about their concerns."
The new Southern project board led by Chris Gibb will be due to report in the autumn.
Reader Comments:
Views expressed in submitted comments are that of the author, and not necessarily shared by Railnews.
Graham "suggesting that platforms outside London are not well lit"?

Yes, I use Goring-by-Sea, Romsey, Saxmundham and Llangadog. I don't think all of these are as well lit as London area stations, nor do they have platform staff.

I have often seen wheelchair users, the elderly, the blind and those with young children boarding and leaving the train assisting by the guard.

Presumably the London area only has healthy commuters?

Have even seen someone who tripped and fell against the train and another whose leg was trapped between the door step and platform, both times the guard saw these and held the train until both were safely on board.

About five years ago saw a young guard quickly calm down a carriage load of agressive football supporters - difficult for the un-trained public or the driver to do.

I understand the desire for TOC's to maximise profits, but not at the expense of safety.

These questions remain unanswered:

Does anyone know if the DOO cameras are continuous viewing or time lapsed?

Are there microphones, for someone calling for help, for wheel chair and other disability assistance?

Would G4S people have the same knowledge and experience as the guards they are displacing?



The fact is that 12 car DOO self dispatch at Farringdon is safer than a single 1 car 153 being dispatched with a guard and platform dispatcher.

G4S have been a boon wherever they have been used, they can do a far better job than rail staff for much cheaper.

They do not need the "knowledge" of a guard or platform staff because these jobs are now redundant as CCTV DOO self dispatch is proven safer at all times.


I can't understand why Chris, Longstock insists that DOO is suitable only for London 'with its well lit stations and staff'. Is he suggesting that platforms outside London are not well lit? That's not my experience. Where does he travel that's so different from everywhere else?

There is no need for a second person to despatch trains just because they're in the country. In any case, it could be argued that, in rural areas there is even less need for a second dispatcher at rural stations because there are fewer passengers.

Stop grasping at straws and accept that there is no added safety risk with the extension of DOO, which is already operating safely and successfully in so many areas.


DOO, fine if you live in or near London, its stations with well lit platforms and staff.

No so good in rural areas.

Does anyone know if the DOO cameras are continuous viewing or time lapsed?
Are there microphones, for someone calling for help, for wheel chair and other disability assistance?
Would G4S people have the same knowledge and experience as the guards they are displacing?


Mr Hall must be a major shareholder in G4s given that he offers their "services" at every mention of Southern Rail.

So, the government has decided to double down with Public Debt in driving through its agenda to cut costs by nibbling away at peoples pay packets and making the whole system even more like a terrible slow expensive airline. Bravo, government, bravo.

But I thought the official story was that ALL the problems on Southern were down to RMT taking strike action and the Conductors throwing sickies ...

All these problems at Southern ; other problems elsewhere, especially overcrowding. It all seems to me to be manifestations of the flawed franchising system, with TOC's quite understandably simply responding to the system's inbuilt perverse incentives.

Real accountability to stakeholders could ,for intercity and cross country type operations be more genuinely acheived through ongoing inter-TOC "in the market"competition, but for the natural monopolies , with captive markets , such as Southern, much more direct and less remote means of accountability than at present are needed. I might suggest these sort of operations ( mostly commuter and local) could become local community cooperatives , with directly elected managements.

Hopefully spent on implementing DOO self dispatch at all stations, so that unsafe guards and platform staff can be removed permanently from everywhere.

G4S can be brought in to do revenue checks if need be.
[The 'shopping list' has been published. It is mainly concerned with improved maintenance.--Editor.]