Posted 5th August 2016 | No Comments
News points: Friday 5 August 2016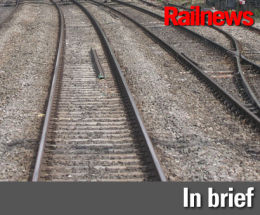 New sinkhole Trains through London Bridge were affected again last night by another hole under the track at Forest Hill. There was some disruption, but the situation was not as serious as it was last month, when a sewer failure under the railway caused a hole some 15m deep. The new hole is not reported to have been as large, and services have been restored today.
***
DOO dispute Talks between Govia Thameslink Railway and the RMT in the driver-only operation dispute at Southern are due to continue at ACAS today. Negotiations started yesterday, but neither side has commented. Meanwhile, Labour's shadow transport secretary Andy McDonald said: "It is increasingly clear that the barrier to resolving the Southern GTR Guards dispute is the Tory Government. The truth of the matter is that the rail union's request to meet the new Secretary of State and the new Rail Minister continues to be ignored, while GTR breaches increasingly meaningless performance targets and lobbies hard to prevent loss of the franchise."
***
Train builders Bombardier and Hitachi could build the next tranche of tube trains for London at Derby and Newton Aycliffe, after forming a joint venture to bid for the Transport for London contract. The two companies had already prequalified separately. Other bidders are Alstom, Siemens and CAF, which said recently that it was planning to build a train assembly plant in Britain. The contract is for at least 250 trains, and bids are due by 26 September.
***
Rural building A prefabricated building designed for an unstaffed rural station in Wales could be seen more widely soon. The Llandeilo 'Station Hub' is a modular, 6m x 2.7m transportable building with a covered aisle, leading to a modern composting toilet. Builder David Bamford said: "We've got an attractive building that can be built at our workshop and transported to a prepared site. It has been designed to be fit for purpose. It's affordable. It's sustainable. It can stand alone if there are no utilities available. Now we are working on a reinforced option that is built around a shipping container but will retain the same aesthetic as the original."