Posted 14th July 2016 | No Comments
Northern and Network Rail form new alliance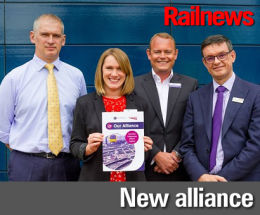 NETWORK RAIL has launched another Alliance with a train operator.
The new arrangement with Northern follows a similar partnership in Scotland with Abellio, although the first of these alliances, with South West Trains, was scaled back after a review which led to the reappointment of two managing directors -- one for SWT and the other for Network Rail Wessex.
Network Rail said the alliance would mean 'even closer working between the two organisations as part of a joint commitment to plan together to provide a better railway and resolve operational issues'.
The alliance was launched in Manchester by Alex Hynes, managing director of Northern (right centre), Helen Kavanagh, head of access and alliancing at Northern (left centre), and Martin Frobisher and Rob McIntosh, Network Rail's managing directors.

Martin, who is route managing director for London North Western, said: "As part of our national Railway Upgrade Plan to provide a better, more reliable and efficient railway for passengers, the network across the north of England is undergoing a wide-ranging modernisation programme including electrification, new sections of railway and upgraded stations.

"To deliver these improvements and minimise disruption as much as possible, it's essential we have an effective relationship with train operators. The alliance with Northern will mean that we continue to work closely together and develop new ways of working to deliver the improvements and benefits that we know passengers want to see."

Northern managing director Alex Hynes said: "This agreement will transform our working relationship with Network Rail. We're already working closely with them on a variety of projects throughout the north of England, projects which when delivered will make a huge difference for our customers."
The Northern franchise is also new, have been won by Arriva and launched on 1 April this year. The contract includes new trains and the imminent retirement of the often-criticised 'Pacer' diesel units. They were built more than 30 years ago as a cost-saving measure by British Rail, using a freight chassis and a bus body to create each vehicle in the two-car sets.