Posted 12th July 2016 | No Comments
New station opens at Bromsgrove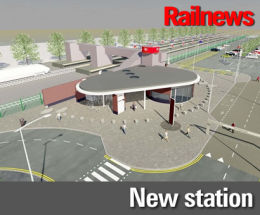 A MODERNISED station at Bromsgrove in the West Midlands opened for business this morning, and the first train to depart was the 06.20 London Midland service to Birmingham New Street.
The previously unstaffed station, which now has a booking office, was rebuilt as a joint project between Worcestershire County Council, Centro and Network Rail.
Bromsgrove station has also gained a bus interchange and an extended car park with 350 spaces.
The old station is being demolished in preparation for an extension of electrification which will allow electric services to run between Bromsgrove and New Street next year, although it had been hoped originally that the scheme would have been completed by May 2015.
The project is one of the last to be carried out with the help of Centro, which was abolished in mid-June along with the West Midlands ITA to become the West Midlands Combined Authority. The authority's transport arm is now known as Transport for West Midlands, or TfWM.