Posted 6th July 2016 | No Comments
Scottish project delays cause 'disappointment'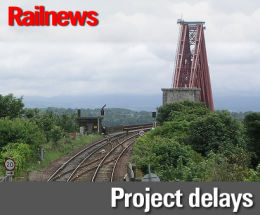 NETWORK RAIL'S slow rate of progress in completing major infrastructure projects in Scotland has been highlighted in a new report from the Office of Rail and Road, prompting the country's transport minister to voice disappointment and warn that he is 'not prepared to accept the long term cost implications'.
Network Rail pointed out that external factors had increased some costs, and said it had learnt 'valuable lessons'.
One of the projects running behind schedule is the country's key electrification scheme between Edinburgh and Glasgow Queen Street, which is now expected to be completed in July next year -- seven months late. Other upgrades affected include improvements on the routes to Inverness from Aberdeen and Perth.
The ORR also warned that there were 'cost pressures', although it praised Network Rail's safety performance and noted that some projects had been successfully completed, including the reopening of the Borders Railway to Tweedbank in September last year.
ORR chief executive Joanna Whittington said: "Scotland's railways have seen sustained investment in recent years, supporting a further rise in passenger numbers. Network Rail is making good progress on health and safety and its programme to improve asset reliability.
"Network Rail has successfully delivered some major enhancement projects in the past year, including Scotland's first new line in over 100 years, the Borders Railway. However, there are cost and delivery issues on other projects which need to be addressed.
"Over the course of the next year, we need to see evidence that Network Rail's initiatives are delivering financial efficiencies and noticeable performance improvements for passengers while achieving gains in health and safety."
Phil Verster, who is managing director of Network Rail Scotland and of the ScotRail Alliance said: "Our Network Rail project teams and their suppliers have a strong and proud track record in Scotland of delivering on-time and on-budget. We need look no further than the Borders Railway line to see evidence of that.
"The programme impacts highlighted will not delay the introduction of our exciting new fleet of faster, longer, greener trains – nor will they impact on our ability to deliver the 200 new services and 20,000 extra seats promised in the Revolution in Rail timetable change.
"Very importantly, our teams have learnt valuable lessons from the circumstances, decisions and programme impacts over the last months. The Edinburgh-Glasgow Improvement Programme is still progressing well and, as the ORR indicated today, the costs have risen due to extra compliance requirements, complicated interfaces with other projects and other unforeseen factors such as severe weather."
However, Scottish transport minister Humza Yousaf has remained unconvinced. After the ORR had published its conclusions, he responded: "I am very concerned and disappointed with Network Rail's latest programme assessment for Scotland, which identifies significant risk of not meeting previously committed delivery milestones and increasing cost estimates.
"Of particular concern, Network Rail has informed Transport Scotland that the Edinburgh-Glasgow line will not be running electric services until July 2017. This is seven months later than scheduled and seven months later than they advised ministers two months ago. This will also increase the cost of the project beyond the previous £742 million estimate. Network Rail's cost estimates for a number of other major projects which are at earlier stages of delivery have also increased. Moreover, progress on other projects has also been slower than expected.
"I am not prepared to simply accept the long-term cost implications, nor the revised programmes that Network Rail have set out. I will also be doing everything possible to ensure that Network Rail deliver the full programme in Scotland by March 2019 and without any extra funding from the Scottish Government.
"Whilst there is always risk in the delivery of major construction projects, Network Rail have fallen short of their previous standards, most recently exemplified by the Borders Railway, which was delivered on-time and on-budget. In the case of EGIP, there is evidence of poor management of contractors; and across the programme there are systemic issues including poor planning and cost estimation and a failure to properly incorporate well established regulations into their project plans."