Posted 10th June 2016 | 4 Comments
Boost for Derby with new Electrostar order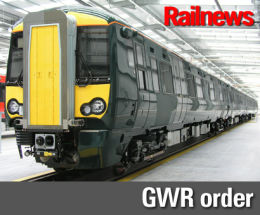 ANOTHER 23 Class 387 Electrostars have been ordered from Bombardier in Derby by Porterbrook for service on Great Western Railway.
The new order is in addition to several previous contracts for Class 387s, some of which have been entering service on Thameslink since early 2015, with 29 more units now being delivered for Gatwick Express. In all, 224 Class 387 vehicles have been ordered for Thameslink and Gatwick Express. Another 80 vehicles were ordered by Porterbook last October, with 56 of these going to GWR and 24 to c2c.
Bombardier said the additional vehicles, 92 in all, will be delivered between April and October next year. As 88 Class 387 vehicles have already been ordered for GWR, including the 56 last October, the total fleet of new 387s for Thames Valley services will consist of 180 vehicles, forming 45 four-car units. It is also understood that at least some of the Thameslink 387s may be cascaded to GWR in due course, when they have been displaced by new Class 700s.
Porterbrook has not revealed how much the order is worth, but industry sources suggest it could be in the region of £200 million.
Porterbrook has been investing heavily in Class 387s, and it said the latest contract demonstrated its confidence in Electrostars and its 'support to the aspirations of the rail industry and the Department for Transport to alleviate the capacity pinch points in the network and provide Britain with a sustainable, world-class transport system'.
Reader Comments:
Views expressed in submitted comments are that of the author, and not necessarily shared by Railnews.
It seems that all the talk of future trains being like those on Crossrail and Overground with no connections at either end is being overtaken with orders for these class 387s which have the conventional narrow engaged gangway connection allowing trains of 4 carriages to be joined together in the conventional way .

For many people this style of train looks like a proper train unlike those used on the London Overground which look more like bigger tube trains even if they have conventional seating layout as opposed to full length bench seating.

well they look yummy!
perhaps in an alternate world this could mean that the GN 365s might be kept as one bunch (SE perhaps getting the Thameslink 377s rather than the planned 319s). I can never understand why splitting up such a small fleet is a good idea.

WOOOOW, look at those trains! Simply arresting! 😍👍