Posted 11th March 2016 | 6 Comments
New Gatwick Express trains take off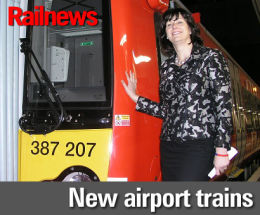 THE rail minister Claire Perry has given a formal launch to the new fleet of trains for Gatwick Express.
Speaking at London Victoria, she told Railnews she welcomed the arrival of more Derby-built Class 387 units in addition to those which have been running on Thameslink since early last year.
She said: "I am really pleased to see the new trains in operation, replacing 30-year old rolling stock."
The fleet for Gatwick Express, built by Bombardier, has been given a distinctive red livery complemented by red covers on the 2+2 seating inside the trains. The interiors have been configured with airport traffic in mind, with additional luggage space. The fleet also offers WiFi and new real-time passenger service updates, which come directly from the rail operations centre at Three Bridges and are displayed in each vehicle.
The new batch of 27 four-car 387s -- technically forming Class 387/2 -- have already been introduced to Thameslink passengers, because some of the units have been running in trial service over the past few weeks between Bedford and Brighton, while the first fully branded set began running between Victoria and Gatwick on 29 February.
Gatwick Express is part of the Govia Thameslink Railway franchise, which began in September 2014 and whose contract included the replacement of the existing Class 442 fleet, dating from the 1980s.
Stewart Wingate, the CEO of London Gatwick Airport, also welcomed the new trains. "This fleet has been designed with the air passenger in mind and heralds the start of a step change in ral services at Gatwick. In just two years, the new Gatwick Express trains will be complemented by a start of the art Thameslink fleet, which together will serve Gatwick with tube-like frequency."
The station at the airport is to be rebuilt, which Stewart Wingate said will be necessary 'so that we can comfortably meet the expected increase in passenger numbers'.
Reader Comments:
Views expressed in submitted comments are that of the author, and not necessarily shared by Railnews.
Now where are the oldest trains again?

SOUTH IOW 1938 stock
SOUTH Chiltern 1960 Class 121
SOUTH Bakerloo 1972
SOUTH Picadilly 1973
SOUTH KX-GN 1976 Class 313
SOUTH GWR HSTs 1972-78

Hmmm

Oldest DMUs maybe?

SOUTH 150.001-2 Reading!

For those who say the North is always second best to the South, I would happily have the old Gatwick Express sets back here on our Weymouth/Waterloo line in place of the 450's which seat 5 people across on a 3 hour journey to London (the same as Plymouth - London which is often moaned about in Plymouth as being too slow). Actually, I would go even further and ask for our line from Wimborne/Broadstone/Poole to be re-opened using the "rubbishy" old Pacers which are not good enough for people up North. I can assure anyone that "rubbishy" trains are better than no trains and long walks or being stuck for hours in traffic jams.....

Lets hope these British built examples last longer than the 333s that Heathrow bought. A few more cracks and they really may have 'taken off'...

Could we have some of those trains too? I thought not. The north always second best to the south.
[See my earlier answer to another correspondent on this topic.--Editor.]

Let's hope that the fleet of PACERS we have in our area can also be replaced by something more modern. WE need investment in a significant amount of new rolling stock in the north not everyone else's cast offs.
[See Arriva's new Northern franchise agreement. Quite a lot of new rolling stock there -- which has been ordered from CAF. The Pacers must go by 2019/2020, and the government has agreed to this. So no need to hope: the story has moved on.--Editor.]