Posted 12th March 2016 | 3 Comments
Heathrow Connect gets back on track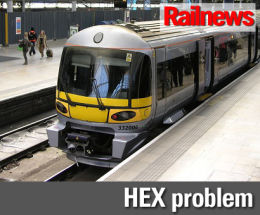 HEATHROW EXPRESS has started to return its Class 332 fleet to service, after safety checks over the past two weeks.
A crack in an underframe was reportedly found on 28 February, and the fleet was withdrawn the following day. The operator confirmed that a 'structural defect' had emerged during maintenance.
Engineers from builders Siemens and CAF have been giving assistance at Old Oak Common depot. The lack of 332s meant that Class 360 units had to be borrowed from the parallel stopping service, Heathrow Connect, which was withdrawn for almost two weeks.
Limited Heathrow Connect services started running again on 11 March, but Heathrow Express warned that there would be no Connect service between Hayes & Harlington and the airport just yet, with passengers continuing to be advised to use Route 140 buses instead. Replacement GWR trains which had been running between Paddington and Hayes have been withdrawn.
Heathrow Express said: "Heathrow Express is sorry for the inconvenience this is causing passengers and is doing all we can to progressively bring Heathrow Express trains back into service in the coming days and resume more frequent Heathrow Connect services.
"Heathrow Connect services will become more frequent as trains become available."
Similar trains, the Class 333 units built at about the same time by CAF and Siemens, have been checked by their operator Northern, which said no problems had been found.
Reader Comments:
Views expressed in submitted comments are that of the author, and not necessarily shared by Railnews.
I have always believed that the 'Connect' paths between Heathrow and Acton would be better utilised sending this service to Gatwick via Olympia, CJ and E.Croydon or on to Birmingham/Manchester via Acton Wells Jnc, Watford and Milton Keynes

So the stopping service was withdrawn for a whole two weeks at the expense of the express service. I bet users of the slow service found that frustrating.