Posted 7th March 2016 | 3 Comments
Heathrow problems go on, but Northern rules out link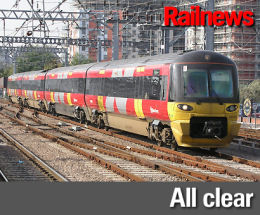 DISRUPTION of train services to Heathrow Airport is continuing for a second week, after the Heathrow Express Class 332 fleet was withdrawn for urgent safety checks a week ago.
Heathrow Connect trains are being used to provide Heathrow Express, while the Connect service, which provides local trains between London Paddington, Hayes and Heathrow, remains suspended. Some additional GWR services have been provided, and are calling at stations between London and Hayes.
Heathrow Express has reduced its fares to compensate for the lack of on-board WiFi and power sockets.
No firm date has been announced for the end of the crisis. The National Rail Enquiries site says until 'at least 8 March', while the Heathrow Express site suggests that the present emergency arrangements could continue until the 10th.
Engineers from the builders of the Class 332 fleet, CAF and Siemens, have been helping to check the underframes of the fleet at Old Oak Common, where a crack was reportedly discovered on Sunday 29 February. Heathrow Express has described the problem as a 'structural defect'.
Meanwhile, industry attention has turned to the Class 333 electric sets which Northern Rail operates between Leeds and Bradford, because they were built in Spain at about the same time by the same consortium of Siemens and CAF. However, Northern told Railnews that a check of their fleet had revealed no problems.
In a related incident, the Rail Accident Investigation Branch has been considering the implications of an incident at Northern's Allerton depot, where a fitter received an electric shock on 29 February while working on one of the recently-arrived ex-Thameslink Class 319s.
Northern said the shock had been 'low voltage' and had been derived from a battery. The fitter involved was taken to hospital but discharged after a routine examination.
Northern said the RAIB and ORR inspectors had been 'satisfied' with the actions taken after the incident, and that it was not necessary to withdraw any Class 319 units as a result. However, working instructions for depot staff may be amended to avoid a similar occurrence again.
Reader Comments:
Views expressed in submitted comments are that of the author, and not necessarily shared by Railnews.
What is even more perplexing about these stories is that you never hear of Pacers being looked at for faults – yet these trains could yet be taken out of public service for examination. We know the Pacers are heading for the scrapyard and their days will be numbered in the not-too-distant future, but when go around tight curves, you feel like the train's going to derail. However, if you liked a bouncy castle as a kid, you cannot help but to enjoy the bouncing that you get from the Pacers.

I have always looked at the 333s as good trains – and would be staggered if any faults of similarity with the 332s were discovered on any unit(s). I understand the reasoning for engineers shifting their attention to the fleet though as they were also built as part of the deal involving CAF and Siemens.