Posted 25th February 2016 | 10 Comments
Flying Scotsman trespassers block East Coast Main Line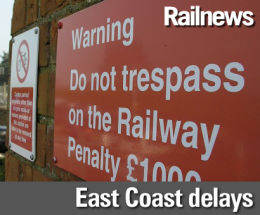 BRITISH Transport Police officers were called to deal with trespassing railway enthusiasts who caused the Flying Scotsman to be stopped near the border of Bedfordshire and Cambridgeshire this morning.
The steam special was on its way from London King's Cross to Edinburgh, when trespassers were reported on or close to the main line between Sandy and St Neots.
The special was brought to a stand for a short time, until police could give the all clear. It is not known if any arrests were made.
The delay also obstructed following trains, and Virgin Trains East Coast issued a warning that some of its services were being affected.
Network Rail said services had now returned to normal.
In a related incident, at least one heritage operator has been forced to cancel charter trains which would have run on 12 and 19 March and also on 9 April, following the suspension of West Coast Railways, whose Safety Certificate for Network Rail infrastructure was revoked indefinitely by the Office of Rail and Road on 18 February after a series of hazardous incidents. These included a narrowly-missed collision on the Great Western Main Line near Swindon last March.
Vintage Trains has apologised to its customers, because like other companies in the sector it had been relying on West Coast Railways to provide heritage locomotives and rolling stock. In a letter circulated today, VT said: "We share in your deep disapointment and frustration which this situation has undoubtably caused. We hope that this will not deter you from travelling with Vintage Trains when we resume operations in the near future."
The company is now in negotiations with alternative operators, and described the early results as 'currently extremely encouraging'.
Reader Comments:
Views expressed in submitted comments are that of the author, and not necessarily shared by Railnews.
You would think these enthusiasts would know the basics of safety when near a railway. However, the lack of desired knowledge is letting them down, and is putting others' welfare at risk, including their own of course. Their picture taking will always be a higher priority to them than their fellow viewers' well-being, which is wrong when the security of onlookers must come first. You could try to tell the enthusiasts the necessary steps to staying safe as much as you want, and it would still go in one ear and out through the other. The loose screws in their brains need fixing!

Wonder how many of those on the lines were genuine enthusiasts and how many were just locals who were lured onto the railway by new of the Flying Scotsman.?

The irony of this bad publicity is we are beginning to see where lines that have been used by heritage trains are being reconnected to the main network with the possibility of through services returning to some of these branches or at least shuttles connecting with main lines .

Behaviour like this threatens to stop Network Rail from encouraging these developments which are slowly rolling back the cut of Dr Beeeching era and allowing places that lost their rail services regaining access to rail network.



Trespassers- don't spoil it for all of us. As David writes it won't take much for Network Rail to say no more then we''ll all lose out. Think!!!

I can also see rail tours being abandoned – but because for a completely different reason. A steam locomotive generates more pollution than the average DMU.

It isn't just Vintage Trains that has been affected,the Railway Touring Company's Cumbrian Mountain Express tomorrow has also had to be cancelled
[Indeed. We were quoting one example of the effects of the WCR ban, not a complete list.--Editor.]

Sadly the rail enthusiast fraternity has more than its fair share of morons, misfits and other mindless idiots. It won't be the first time - or the last, I suspect - when their thoughtless stupidity has endangered public safety. They are putting their own lives on the line (quite literally it appears).

Name and shame them!

This is doubly frustrating for steam operators and true steam enthusiasts, with the spotlight on WCRC anything that impedes the operation of a safe and efficient railway for fare paying passengers and hard working staff will be noted by the rail regulator. Although I am an enthusiast myself, I can see pressure to abandon all heritage steam on the main line if there are any further incidents, whether by unsafe operating or by over enthusiastic "enthusiasts" who trespass and cause chaos on our already overstretched railway network.

The Flying Scotman may be THE best loco in the world, but these railway enthusiasts need to take a step back and allow other members of the public to enjoy the tour instead of just thinking of themselves.