Posted 25th January 2016 | 4 Comments
Underground strike called off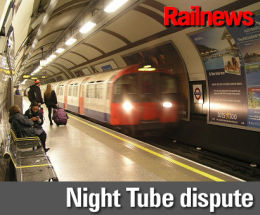 A STRIKE which would have affected London Underground services for 24 hours from Tuesday evening has been called off by the RMT, so that the latest offer from Transport for London can be considered.
The unions are in dispute over plans for 'Night Tube' services which should have started last September, and would have provided all-night services on Friday and Saturday nights on most of the deep tube lines, with the exceptions of the Bakerloo and Waterloo & City.
Aslef, TSSA and Unite had already suspended action by their members to consider the current state of play in their negotiations with TfL, but the RMT warned that more strikes were still currently set to go ahead on 15 and 17 February.
General secretary Mick Cash said: "The union makes it clear that we remain in dispute and the strike action scheduled for February remains on. The union is finalising the details for the continuation of that industrial campaign and the on-going fight over the threat to jobs, services and safety."

Reader Comments:
Views expressed in submitted comments are that of the author, and not necessarily shared by Railnews.
Isn't it possible for a collective number of people to sue the unions for loss of pay and related damages? If not it should be!
[Interesting idea. The contract of carriage entered into by a passenger is with the operator -- in this case London Underground Ltd or possibly Transport for London. Without checking, I would expect it to include 'escape clauses' covering industrial disputes and other disruptions beyond the operator's control. Passengers have no contract with the staff nor their unions, so any claim based on contract may not get very far. Beyond that we are in deep waters. I will suggest this topic to our 'tame' railway lawyer for our March edition, when his column is next due to appear.--Editor.]

24 hours public transport service is absolutely needed for a such well known city in world. Strike is just a good way of asking for more pay!


These strikes are nothing short of preposterous! Don't they EVER think of how much the disruption impacts on the working people's daily business? I don't think they'd like it if their business was impacted on by something like this.