Posted 11th January 2016 | 6 Comments
New Underground strikes called over Night Tube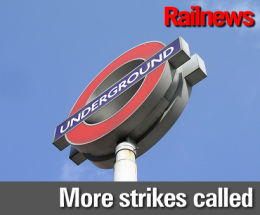 LONDON Underground is set to be hit by three more 24-hour strikes over the next five weeks, as the long-running and increasingly bitter dispute over the proposed Night Tube services continues.
Three 24-hour strikes have been called, each starting at about 21.00, on 26 January and then 15 and 17 February.
The unions say the pay and conditions of staff who would work overnight on Fridays and Saturdays are not good enough, with RMT general secretary Mick Cash labelling the plans 'bodged'.
London Underground's current offer is a four-year pay deal, and chief operating officer Steve Griffiths said the unions had adopted an 'absurd' stance, and that they were 'detached from the real world'.
Aslef claimed that LU management had been boycotting meetings. London district organiser Finn Brennan said: "We genuinely regret the inconvenience that will be caused but the behaviour of London Underground's senior management team have left us with no other choice."
However, Steve Griffiths responded: "The truth is that they expect our customers to pay for their excessive demands for even more money, fewer hours and a four-day week."
"No employer could allow this and strike action will change nothing. There is no more money.
"The unions also attempt to justify their position on a lack of engagement with them. This too is nonsense. We have held numerous meetings with the unions since October 2014, including with the conciliation service ACAS.
"London needs a Night Tube service and we have made all of the running to implement it fairly. The only thing standing in the way is union intransigence."
In a statement, London Underground said the salary for a train operator is £49,673, with 43 days annual leave. The salary for a customer service assistant is £30,000, rising to £50,000 for a station supervisor, with 52 days annual leave.
Mick Cash said the RMT supported the principle of a 'properly worked-out night Tube service' but he said an "abject failure to work through the detail has led to a comprehensive breakdown in the negotiations".
The TSSA has yet to announce its position, and said that it would now be consulting its members.
Reader Comments:
Views expressed in submitted comments are that of the author, and not necessarily shared by Railnews.
By many standards, LU workers are well paid, and there is certainly no justification for strikes about implementation of the night tube.
At most, they should just refuse to work the night services until a satisfactory basis is agreed. If other workers are happy to do the job, let them.
Interesting that LU say that many of the applicants for the part time jobs are from current train drivers. Is the support for the Unions' stance as strong as they make out?j

Those who simply blame unions need to remember night tube plan was announced nearly THREE years ago and yet Mayor Boris who is Chair of TFL never bothered to meet unions to discuss HIS PROPOSAL for a weekend night tube service .

In fact it would be better to put idea of a night tube on ice until after the Mayoral election in May leaving candidates to spell out their plans to take this proposal forward if they become Mayor .

It's worth remembering that unions have said they are not against the plans for a Night tube but it has to be on sensible and safe terms and conditions for both passengers and staff .

Disgusting. It's time they legislated to stop this type of greed striking.

Some balance to the figure quoted.
"In a statement, London Underground said......"
In a city where things cost twice as much, those aren't the best wages, not a lot left after their rent and bills go out.

You have got to feel for the commuters of London. It's none of their fault, but it's going to be a challenge for them to get into work when these strikes happen.