Posted 25th January 2016 | 1 Comment
Government sells King's Cross stake for £371m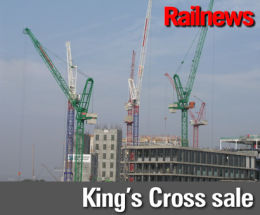 THE government is selling its interest in the King's Cross railway lands to an Australian pension fund for £371 million.
The 27 hectare site between the East Coast and Midland Main Lines was formerly King's Cross goods yard and locomotive depot. The land was partly owned by state-owned London & Continental Railways, which completed HS1 to St Pancras in 2007.
The site will contain almost 2,000 homes as well as offices, schools, restaurants and shops, with 50 new or refurbished buildings. Its occupiers include Google, the Aga Khan Development Network and University of the Arts London.
Its new part owner, AustralianSuper, is the largest pension fund in Australia. Transport minister Robert Goodwill said: "I am delighted that the sale of government's shares in King's Cross Central, an asset we no longer need to keep, has enabled us to realise its value for the taxpayer. This sale is an excellent example of how we are reducing the deficit and delivering lasting economic security for working people."
The decision to sell the government's investment in King's Cross Central Limited Partnership, which is developing the land, was announced by the Chancellor in June last year. The sale process then began in August. The other parties are Argent, Hermes and DHL Exel.
Chief Treasury secretary Greg Hands said he was 'delighted' with the deal. He added: "At the Spending Review the Chancellor set out how the government will fix the public finances by eliminating Britain's deficit by 2019-20. Central to our plan is the sale of government assets to help pay down the national debt and ensure economic security for working people."
AustralianSuper head of property Jack McGougan said: "We are pleased to have secured an increased stake in this iconic mixed use development and look forward to working with our co-investors and the Argent development team to create a vibrant, commercially successful neighbourhood in central London."
The Partnership's chairman Sir David Clementi said: "The King's Cross development partnership's long-term approach has created one of Europe's most exciting places to live, work, or visit – a real asset to London. I would like to thank LCR and DHL for their support for the project over many years. AustralianSuper's increased share demonstrates its confidence in the remaining future growth in value of King's Cross, as we enter the final five years of construction."
Reader Comments:
Views expressed in submitted comments are that of the author, and not necessarily shared by Railnews.