Posted 18th January 2016 | 5 Comments
London Underground shortlists builders of driverless trains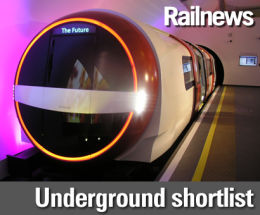 LONDON Underground has issued invitations to tender for the next generation of trains for the deep tubes, just two days since a door opened unexpectedly on one of the trains which are to be replaced.
The proposed contract will provide new fleets for the Bakerloo, Central, Piccadilly and Waterloo & City lines, which will all be suitable for automatic operation.
Unions are calling for urgent action after the failure on Saturday, when a door opened on a moving train near Heathrow Terminal 4 station. The RMT said it had been drawing LUL's attention to various faults on the Piccadilly Line's 1975 stock for the past year, but LUL has described the incident as an 'isolated' one. Some drivers have since refused to work on Piccadilly Line trains, and cancellations were reported on Sunday.
The 'New Tube for London' trains are set to be built by one of five shortlisted bidders, who are Alstom, Bombardier, CAF, Hitachi and Siemens.
The contract will require 250 walk-through, air-cooled trains for the deep tubes to be delivered in the early 2020s.
The Mayor of London Boris Johnson said: "Over the last few years we have seen the completion of several major signalling upgrades on the Tube, as well as the delivery of 191 brand new air-conditioned walk-through trains. But it is clear that London must have continued investment in its Tube network if it is to continue to flourish, and that is why I have argued so hard to protect our capital investment programme. I am delighted that we are now able to launch the process to commission a fleet of new deep-level Tube trains that will transform journeys for the millions of passengers."
London Underground managing director Nick Brown said: "Today's invitation to train manufacturers to submit bids for the design and build of the New Tube is a significant step forward. Londoners have already seen huge improvements to the Tube network, but to meet the needs of our rapidly growing population we must continue to invest in and improve our services. More people are using the Underground than at any point in its 153-year history. The New Tube for London will transform the journeys of millions of customers, providing trains fit for a world city for the next five decades."
London Underground said the new trains would feature 'attractive internal styling that echoes the Underground's heritage,' and would also 'help to support new jobs and growth elsewhere in the UK'.

Bidders will need to return their proposals to LU this summer, with the contract due to be awarded in autumn next year. LUL's procurement programme is running several years late, because new trains for the Piccadilly Line were originally due to have entered service in 2014.
Reader Comments:
Views expressed in submitted comments are that of the author, and not necessarily shared by Railnews.
About time trains without drivers are introduced. The victoria line has always been automated as are the central line and most if not all of the jubilee, northern and i believe waterloo and city lines. Testing of automate metropolitan lines are now also underway. I hope there will be staff on the future automated trains though.

Whilst I agree this is great news for London & the South East, I have to reflect that we 'in the North' are still having to endure 40 years old Pacer trains, which are as comfortable as 'sliding downstairs on your backside', and with little sign of them being replaced! The last I heard, was that some of the 'withdrawn' London Underground stock was being converted to diesel to run on commuter trains up here at the 'back of beyond'. So much for the 'Northern Powerhouse' - simply propaganda with no intention of action!
[The new Northern franchise contract includes the withdrawal of Class 14x Pacers, which are mainly just over 30 years old.--Editor.]

As far as I'm aware the Victoria Line Trains have been 'driverless' since 1967 but have had a Driver in them sitting there because of Union insistance. What makes anyone think that this time will be different ?

This has been a long time coming for the people of London. I bet they'll be delighted with the news.