Posted 18th January 2016 | 5 Comments
RMT demands action after door opens on moving train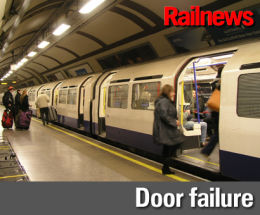 THE RMT is calling on London Underground to take urgent action after a door opened on a moving Piccadilly Line train at the weekend.
The fault occurred when a train was approaching the station in tunnel at Heathrow Terminal 4 on Saturday morning, and although no one was injured the event has boosted fears that the 1975 stock on the line is now ageing dangerously. The union claimed it was the fifth such occurrence in recent weeks, although London Underground described it as an 'isolated problem'.
The Piccadilly fleet was originally due to have been replaced by 2014, but the Underground's new train orders programme slipped after the failures of the independent maintenance contractors Metronet and Tube Lines. The Piccadilly is at the front of the queue for the next tranche of new trains along with the Bakerloo Line, where the stock is two years older.
Aslef said some of its members were now refusing to operate Piccadilly Line trains, and the RMT also reported some refusals by drivers to work on Sunday following the incident.
There have been discussions over the safety issues between Transport for London and the unions. London Underground operations director Pat Hansberry said: "Following an isolated problem with one train door we carried out a full inspection to confirm there wasn't a wider problem, which resulted in some cancellations."
An RMT spokesman said: "There are serious questions over the safety of the ageing fleet on the Piccadilly Line in terms of braking systems, wheel flats and brake operation that RMT has been raising for well over a year now. There are clearly major safety issues which must not be ignored any longer."
Reader Comments:
Views expressed in submitted comments are that of the author, and not necessarily shared by Railnews.
No, the piccadilly wasnt closed because of problems with the trains, the unions just strike once a week now. This time the management bought the wrong tea bags.

Right, that explains why the Piccadilly line was closed yesterday. Seemed odd to close a whole line due to "Staff Shortages".

Having been working at Bombardier Wakefield toward the end of 73 Stock mid-life upgrade, it's sobering to work out that it was 16 years ago. MID-LIFE! Do the maths.

I am with the RMT on this one - an investigation needs to be conducted. These trains have had their day, and it's unbelievable that they're still running on the rails. Oh, and I when say that, take them out of service for good and do not send them up north. These carriages are even worse than the Pacers in terms of ride quality. They're also slower than a Class 142 and Class 144. Us northerners have enough to put with, without having a worse standard of train on our tracks.