Posted 14th December 2015 | 1 Comment
National Express launches first German rail services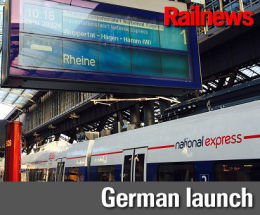 THE first rail services to be operated in another European country by National Express have been launched in Germany.
Yesterday's Europe-wide timetable change saw the transfer of operations on two German routes from DB Regio to National Express, which had won the contracts to run the lines in the Köln (Cologne) area in February 2013.
The services are RE7 (regional express, Krefeld-Köln-Wuppertal-Hagen-Hamm-Münster-Rheine) and RB48 (stopping service, Bonn-Köln-Wuppertal).
NX has procured 34 160 km/h Bombardier Talent 2 trains on behalf of the regional transport authorities for the services, and said it expects to carry 18 million passengers annually. The contracts will run for 15 years and are forecast to earn a total of €1.6 billion (£1.1 billion).
NX is set to take over more German routes, but in one case only if it manages to resist a technical challenge. It will be gaining two Rhine-Ruhr express services after signing the contracts in October, and is also currently preferred bidder to operate S-Bahn services in the Nuremberg region.
In this case, the award was challenged by the incumbent DB Regio in February, and the procurement process was halted in April. It then emerged that there were flaws in the financial guidelines provided to bidders. However, although a court has since ordered that the bids must be reviewed for that reason, it did not declare the competition void. NX is still preferred bidder, with a decision expected soon.
NX Group chief executive Dean Finch said: "Germany is Europe's largest rail market and is an important part of our strategy. I am delighted that after significant planning and preparation we have started running services. We will be implementing our approach and success in running the UK's best performing franchise, c2c, in Germany. National Express' aim is to deliver a better, more frequent and reliable service to RME passengers with brand new, modern trains.
"The German rail market presents significant further opportunity for National Express. We are working on the start-up of our next two German rail contracts on the Rhine-Ruhr Express. These bring our already secured revenues from German rail to €2.6 billion. We await the outcome of the appeal on the €1.4 billion Nuremberg S-Bahn contract, have recently submitted a bid for another German rail contract and see an active pipeline of attractive opportunities throughout 2016."
Reader Comments:
Views expressed in submitted comments are that of the author, and not necessarily shared by Railnews.