Posted 16th June 2015 | 2 Comments
National Express wins two more German rail franchises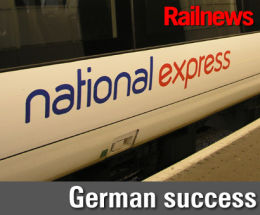 NATIONAL EXPRESS has been named as the preferred bidder for two more German rail franchises.
The company said it was 'delighted'.
The contracts are for two of the three that cover the Rhine-Ruhr Express services between such cities as Cologne, Dusseldorf and Dortmund, in Germany's most populous region. National Express services will carry 30 million passengers a year.
The first of the contracts starts in December 2018 and the second in December 2020. Both will run until December 2033.
These additional services in Germany will serve the same region and some of the same cities as the two contracts that National Express will begin operating in December this year.
National Express said the new contracts were expected to generate revenues of around €1 billion over their lifetimes.
National Express Group CEO Dean Finch said: "National Express is delighted with this further success in German rail. It strengthens our presence in the North Rhine-Westphalia region, where we begin operating our first contracts later this year.
"I am very pleased with the progress that our strong local team is making. They are focused on delivering rigorous proposals that will provide excellent services for passengers, a fair deal for local taxpayers and good returns for shareholders. We look forward to providing passengers in the North Rhine-Westphalia region with a high quality rail service for many years to come."
Reader Comments:
Views expressed in submitted comments are that of the author, and not necessarily shared by Railnews.
It can only be hoped that DB do not object to National Express winning these franchises, as they have already done over the recent Nuremberg S-Bahn contract. The German state-owned railway company, like SNCF, must abide by EU rules and allow open competition on their network, just like the UK government welcomed DB into Britain. Anyway, it is good news that, at last, a British train operator does appear to be succeeding in mainland Europe