Posted 5th November 2015 | No Comments
Drivers' strike looms on Arriva Trains Wales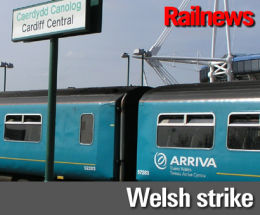 TRAIN services in Wales could be badly disrupted next week by a 48-hour strike in a dispute over pay.
The RMT said its drivers working for Arriva Trains Wales will strike from 00.01 on Thursday 12 November. Members of Aslef are set to walk out at the same time, although talks are continuing with the company.
The RMT said the "key issue is the unwillingness of Arriva Trains Wales to table an adequate pay offer despite RMT postponing previous strike action to allow for further meaningful discussions to take place".
RMT general secretary Mick Cash said: "RMT officials have made every effort to resolve this dispute through negotiation, even postponing previous action in good faith so that management could return to the table with a serious offer. They have point blank refused to do that and, therefore, we have been left with no alternative other than to reinstate the strike action.
"Our members on Arriva Trains Wales are furious over this management intransigence which has left us with no option but to send a message that the union will refuse to stand by and allow them to be treated with such utter contempt over these important issues.
"As ever, RMT remains available for further meaningful talks".
ATW HR director Gareth Thomas said: "Progress has been made towards achieving some of the unions' aspirations and we will continue our negotiations this week where we hope that we will reach a satisfactory agreement for all sides."