Posted 16th October 2015 | 5 Comments
Report calls for expansion of TfL-managed network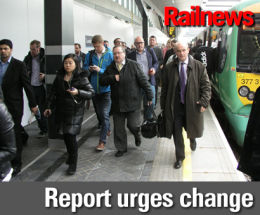 A NEW report by councillors is recommending a major expansion of Transport for London's suburban rail network, after claiming that "passengers' experience of the rail network in London is often poor, and appears to be getting worse".
The findings by the London Assembly include the replacement of the DfT by TfL as the manager of suburban lines, but the Rail Delivery Group has resisted the idea, claiming that London lines produce 'some of the best passenger satisfaction levels'.
RDG members include franchised operators, whereas Transport for London has adopted the concession model, in which the chosen operator has no discretion about fares, timetables or branding, and essentially undertakes to run specified services in return for a fee.
The London Assembly report identified services south of the Thames as an early candidate for the changeover, citing DfT figures which show that 40 per cent of morning peak services arrived at London termini over capacity, and that 16 per cent of trains in London and the South East arrive at least five minutes late.
Valerie Shawcross, the Labour chair of the Assembly's Transport Committee, said: "There is a growing consensus that rail devolution to London is a good idea, including among passengers both inside and outside of London."
The Rail Delivery Group responded by saying "Some of the best rail passenger satisfaction levels in London and the South East are being achieved on services commissioned by both Transport for London and the Department for Transport.
"Private train companies already work effectively with TfL, whether by operating London Overground or ensuring that passengers can use their tickets to travel across both TfL and National Rail."
Any changeover seems unlikely to be easy or quick, because it would need a change of policy at the Department for Transport.
Transport for London has been running some suburban lines as 'Overground' services since 2007. The most recent addition to the network was the West Anglia inner suburban group from Liverpool Street and also the line between Romford and Upminster, which passed from Abellio to TfL at the end of May.
Reader Comments:
Views expressed in submitted comments are that of the author, and not necessarily shared by Railnews.
Of course London politicians want control of London rail services; they all want a train set to play with.......

We have to find ways to make rail services cheaper to provide; and handing over the reins to TfL/ Overground is not the way to do it. Without a competitive tendering process how do you keep any control over costs and thereby fares ?

Status quo with tweaks and more competition seems the best bet to me......

[Transport for London is a public authority, and its concessions do not give its operators (who do go through competitive tendering) any discretion over fares.--Editor.]

My line (to Hayes, Kent) is seen as a particular target for transfer to TfL and conversion to become part of the Bakerloo line. This means that smaller trans will be used with around 1/3rd of the seats of the current trains, no toilets and with minimal prospect of an increase in frequency.

Currently people joining in places like Lower Sydenham can expect to stand for circa 25 minutes each way every day. Once it is part of the Bakerloo line, with new stops and slower trains, people will be standing for 40+ minutes each way. And we will have to change at Lewisham, which is already overcrowded and will be unable to cope. To suggest that spending circa £2bn on reducing speed, capacity and usefulness would be an improvement is laughable.

There are many things wrong with the current arrangements on NR (I could tell many stories of TOCs painting over rotten timber because their contract says that they must paint but does not say that they must repair), but a transfer to TfL is not going to help in some magical way. Only funding appropriate improvements in capacity can do that.

"Some of the best rail passenger satisfaction levels in the South East are being achieved on [southeastern/southern/south west] services"?

9 Months of having to endure Southeastern services through London Bridge was so traumatising that I switched jobs and moved house just to avoid it.

I find the idea that anyone onboard any train in South London is 'satisifed' with their services not only abhorrant, but personally insulting.

The difference in Service and Public Spending on services makes the two different sides of the Thames look like different countries. The quicker TfL take over all Southeastern Metro services the better.

I like the idea of passing southern suburban lines to TfL, but not for the reasons given here.

The logical argument for running lines such as the southern suburban ones by TfL is quite simple: there are routes that run entirely or almost entirely within Greater London, and we already have a devolved level of administration that is already capable of running services on the National Rail network. It makes perfect sense for TfL to add this to their existing Overground network and manage it how they choose.

But I don't see how this is going to solve the problems mentioned here. Punctuality and overcrowding are largely down to infrastructure, and with so many lines being shared by south-eastern or main line services, I don't see who could manage the lines other than Network Rail. Apart from lengthening a few trains that aren't already at maximum length, I don't see what TfL can do that isn't being done already.