Posted 7th October 2015 | No Comments
Centro reveals details of Midland Metro changeover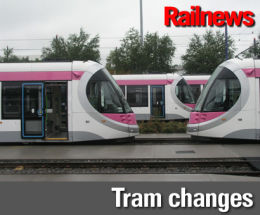 TRAM passengers in the West Midlands have been told that the stop at Birmingham Snow Hill will close permanently after the last trams on Saturday 24 October.
From the following day Midland Metro services from Wolverhampton will terminate at St Paul's, the next stop down the line, for about six weeks. Replacement buses will bridge the gap between St Paul's and Snow Hill Queensway.
During this time, a new junction will be installed on the approach to Snow Hill, to connect the incoming route with new tracks which have already been laid. These skirt Snow Hill station and are the first part of the new link to the city centre.
When the junction and its associated electrification and control systems are ready, trams will then run onwards from St Paul's again, but they will now continue alongside Snow Hill as far as a new city centre stop in Bull Street.
The last link in the chain, the rest of the line from Bull Street to New Street station, should open 'by the end of the year' according to Centro.
Tram passengers will also be able to continue to Snow Hill station itself by changing to a National Rail train further back down the line, but Centro warned that Midland Metro tram tickets will not be valid on trains.
Cllr Roger Horton, the lead member for rail and Metro on the region's Transport Delivery Committee, said: "We appreciate that this work will cause some temporary disruption for passengers and we would like to apologise for this in advance.
"Despite the short term inconvenience it's worth remembering that this work paves the way for passengers to be able to travel by tram right into the heart of the city centre. That's good for passengers, good for retailers and good for our regional economy."
The two terminating tram platforms at Snow Hill are likely to be converted in due course to accept conventional trains.