Posted 3rd September 2015 | 8 Comments
Plans for new Merseyrail fleet move ahead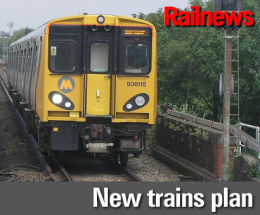 PROPOSALS involving the investment of £400 million to replace one of the oldest fleets of trains now running on National Rail have become firmer, after a detailed business case was unveiled.
Merseytravel says new trains are "now considered the best option in meeting growing demand on the network and supporting the city region's economic ambitions, while also presenting the best value for the public purse".
The present fleet on the local Liverpool network is already almost 40 years old, but the possibility of refurbishing it again had not been ruled out until now.
New trains would be able to carry more passengers and also could run on more routes, which is another option for coping with continuing growth in the Liverpool area. The present fleet is posing an increasing challenge to maintaining the "currently high levels of performance and customer satisfaction", Merseytravel said.
A further 40 per cent increase in passenger numbers is expected by 2028, with some parts of the Liverpool network predicted to be way beyond capacity –160 per cent filled – by 2043.
A new fleet is also believed to be the best value for money, Merseytravel said, because faster trains carrying more passengers would be worth an estimated £70 million a year to the Merseyside economy, helping to create 1,000 jobs.
The Merseytravel Committee will now take a decision at its meeting on 1 October as to whether to approve the formal launch of the procurement process.
If the answer is yes, a preferred bidder would probably be identified in around 12 months' time, with city region leaders then asked to give their approval.
The programme also includes investment in infrastructure, such as upgrading depots and power supplies. Merseytravel said it, would be funded at no additional cost to local taxpayers, because it would make use of funds which have already been set aside.
Merseytravel chief executive David Brown said: "Doing nothing is not an option. The fleet is amongst the oldest in the UK and we want to ensure that we're geared up to maintain the high standards people have come to expect from Merseyrail, as well as ensuring the fleet can cope with a significant increase in passenger numbers.
"This is not just about new trains, but what they will enable us to do. They will help us improve links within and beyond the city region, supporting our own ambitions and those of the wider 'Northern Powerhouse' agenda, as well as benefitting us in very real economic terms, stimulating the creation of jobs and contributing millions of pounds every year to the Liverpool City Region economy."
Reader Comments:
Views expressed in submitted comments are that of the author, and not necessarily shared by Railnews.
Acceleration is major talking point as newer EMU's have more powered bogies.

The 508 trailers are serving SWT very well in their 455/9's and no indication yet that SWT plans to retire them. One option would be to take the MSO from a 508 and either create a 4 car unit with more traction, or as would be more sense, the retired 507/8 MSO is refurbed and added to a SWT 455 to create a fleet of 5 car units with better traction and acceleration.

A 'Light-rail' solution for Merseyside is not a 'downgrade' IMO

If a 'light-rail' solution were to be adopted for 'Merseyrail', there would still be 'faster' Northern Rail' 'heavy-rail links within Merseyside from Lime Street to St.Helens/ Liverpool South Parkway/ Hunts Cross/ Runcorn/ Warrington/ Widnes etc etc; (just like the options in Manchester with 'Northern Rail'/ 'Metrolink').

I remember well back some time ago when 'anti-smoking' policies were being formed, the 'average-passenger-journey-time' on 'Merseyrail' was about 18 minutes, and the 'average-passenger-distance-length' was 11 kilometres. I acknowledge this may have changed, but I bet not by much.

I also acknowledge that the 'Alstom Dualis/ Regio-Citadis electro-diesel' 'go-anywhere' tram is 'slower' @ 100km/62mph compared with the 507/508's @ 75 mph, but I wouldn't mind betting that with better acceleration, passengers would not notice much difference in sector times over the few network sectors where speeds get over anything like 60+ mph.

I maintain that selecting a 'light-rail' solution for 'Merseyrail' would allow new fleet procurement, and the savings in capital expenditure and whole-life operation over 'heavy-rail' would allow for spend on extensions to Skelmersdale/ Liverpool Airport/ Albert Dock/ Edge Hill and a Kirby-Wigan-St.Helens loop to be funded within the 'heavy-rail-option' budget. Tram operating-cost profiles over heavy-rail could also see massively improved frequencies.

Wake up England ! See whats going on around the rest of Europe. If we want cheaper rail fares in this country, part of the deal is not having 'Rolls-Royce' solutions to 'Ford fiesta' problems. 'Light rail' is the way to go with 'Merseyrail'........

......and if you don't believe me, take a trip to Kassel in Germany and see for yourself.


Downgrading to light rail is not a solution. The 3-car sets operate in multiple (i.e. six car) during the peaks and operate at close headways round the central loop and through the the link. They operate at relatively high speed on the more remote sections. Providing equivalent capacity through a light rail solution would be a severe retrograde step in terms of capacity and passenger comfort. Skelmersdale and Liverpool airport both need to be connected by heavy rail to allow connections to Wigan, Preston, Manchester, etc. If there is light rail role in Liverpool, it is for a tram line on the route of the former overhead railway, connecting with the Merseyrail Northern Line at each end. That would give the Albert Dock connection and relieve Central (low-level) to some extent.


The 'Merseyrail' network is completely suited to conversion to a Manchester 'Metrolink' style operation using lighter-weight trams. The network around Liverpool is almost completely segregated from other NR services and is absolutely perfect for a tram network.

Everybody complains about rail fares, but few seem to recognise the correlation between operating costs and fares. Cheaper system, cheaper fares.

Not only would the adoption of trams make sense from a cost perspective, future extensions to Liverpool Airport, Albert Dock, Skelmersdale and other destinations could be built at 'street-level'; again at much reduced cost, as could the restoration of the Liverpool Central to Edge Hill link.

If any new train ought to be considered IMO, its the 'Alstom Regiocitadis' design, or even the 'electro-diesel-go-anywhere' variant.

[Your idea echoes the situation in Brussels, where trams run through tunnels in the central area but emerge on to the streets in the inner suburbs.--Editor.]





Once the new fleet is in place, there will no longer be any need for a separate franchise for the Merseyside area, so costs can be reduced by merger into Northern along with the elimination of the train guards. Good news.
[The Merseyrail franchise is awarded by Merseytravel, not the DfT. Considering the vogue for greater regional devolution, a reversal of this arrangement seems unlikely, to say the least.--Editor.]

The Merseyrail fleet come under the umbrella of PEP stock which was developed in the 1970s and includes classes like 313 which is dual voltage , 315 which is AC only and these trains which are DC only. They were also of a revolutionary design which brought tube style stock to mainline railways with sliding doors and lighter seating together with more space to stand in rush hours.

Of the above trains plans to replace 313s were part of recent TSGN franchise , while 315s will be replaced by new Crossrail trains .

As for new trains for Merseyrail then any new fleet needs to be dual voltage to allow extenstion of services on to newly electrified routes and maybe even gradual conversation of DC lines to AC overhead.

Options include the new AT100 trains from Hitachi or maybe the new Aventura trains Crossrail has ordered with walk through carriages and air conditioning.

As to PEP stock being 40 years old it's worth remembering that Switzerland has run electric trains that are around 60 years old !

By the time they are retired the Merseyrail 507/508 units will be at least 40 years old and testimony to the value of investing in sound electric units. Having worked the Wirral & Northern Line services since their introduction in the late 1970's they have been dedicated workhorses and a credit to the maintenance staff at Birkenhead North & Kirkdale..

From the passengers perspective progressive refurbishments have provided them with a travelling environment equal to comparable new units being introduced today. For those demanding that extension of electrification be complimented by introduction of new build trains may the 507/508's be a reminder that there is still many years valve left in the BR era emu fleets.