Posted 14th May 2012 | 8 Comments
Merseyrail unveils plans for new fleet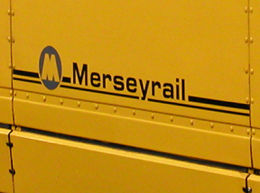 MERSEYTRAVEL has launched a programme to replace Merseyrail's ageing fleet of electric multiple units. It will start the tendering process later this summer, with the intention of introducing new trains in 2017.
'Expressions of interest' have been invited from manufacturers around the world, and a shortlist of potential procurement directors is being drawn up, with the help of headhunters.
The present fleet of Class 507 and 508 units was built in the late 1970s and only has about six years of economical life left. The accompanying leases will also come to an end at about the same time.
Merseytravel is the trading name of the passenger transport executive and the associated integrated transport authority, which awarded the 25-year Merseyrail Electrics operating franchise to a partnership of Abellio and Serco in 2003.
Councillor Mark Dowd, who chairs Merseytravel, said: "The Merseyrail rolling stock replacement project will be one of the most significant schemes undertaken by Merseytravel over the next few years, with consequences that will extend for decades.
"Getting the right person to oversee the project and creating the right project governance arrangements are the first priorities on the way to successful delivery of new trains for Wirral and Northern Line passengers."
The governance arrangements will include the creation of several project groups so that various stakeholders can be consulted, such as local customer forums and watchdog Passenger Focus.
Reader Comments:
Views expressed in submitted comments are that of the author, and not necessarily shared by Railnews.
A five year procurement and build cycle sounds like a gravy train for some. Also a little premature - a little effort would extend the life of these vehicles into the 2020s.

Surely it would be better to tag on some 377s to the current batch just ordered, rather than restart the 378 build?

I think the previous correspondents are all thinking along the right lines. The follow on of London Overground stock is an excellent idea. Merseyside is in no position to pioneer new ideas for its own trains. AC/DC combined trains is the sensible way forward and to link the City Line via one of the short disused tunnel under the city centre using the same new stock.

The commonsense solution would be to order the same trains as TFL use on the Overground Network with AC/DC compatability both to extend services beyond the DC network and even in time to replace DC with AC electrification.

Why we seem to always need to re-invent the wheel or should this be the train when BR simply ordered follow on orders just like SNCF does in France!!

This decision will release even more electric trains so should they be scrapped or used to replace pacer units by extending electrification?

Odd thing is these trains are tbasically he same PEP stock as Southern has sucessfully upgraded and now uses on its coastway services where some users believe they are new trains!



obviously this contract will go abroad yet again

It is good to see Merseytravel taking time by the forelock and beginning the process for obtaining new trains - this being Britain there will be delays a-plenty awaiting these bold pioneers.
But please may we also have electric trains through beyond Kirkby to the natural destination, Wigan? I realise that Wigan lies - oh how shocking, what a terrible thing - in a different political area, but the natural destination for any train heading towards Wigan from Liverpool is, amazingly enough - Wigan. Surely a no-brainer!

Am I missing something here but surely the first priority is acquiring reliable fir for purpose rolling stock at at a reasonable cost to the tax payer, not appointing a Project Manager and associated governance? The consultee groups already exist as does 30+ years of operating experience of class 507 and 508 rolling stock plus several new guidelines on accessibility, design standards, etc. etc. Why do he have to waste time and money re-inveniting the wheel everytime we replace older rolling stock with new vehicles?