Posted 25th August 2015 | No Comments
Underground strikes called off but dispute goes on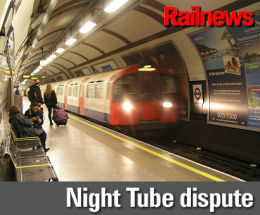 WALKOUTS which were set to disrupt London Underground tomorrow and on Friday have been cancelled after two weeks of 'constructive talks' between Underground negotiators and the rail unions.
This week's strikes, which would have started at 18.30 this evening, had been called by the RMT, TSSA and UNITE in the continuing dispute over plans for 'Night Tube' services next month.
However, in spite of the truce new strike dates of 8 and 10 September have also been announced.
Because ASLEF members were not involved in this week's strikes, there was the possibility of limited services running on some lines, unlike the two previous occasions on 9 July and 6 August, but Transport for London had warned that most services would have been "unlikely to run at all and those that do run may only serve some stations".
TfL has confirmed that normal services will now run this week, while talks continue on "reaching an agreement that is affordable, sustainable and fair". It said it had "listened and has worked hard to strengthen commitments on work-life balance".
Underground managing director Nick Brown said: "It is good news for London that the strike has been suspended. We will now continue to work with the unions, so that we can resolve this dispute and get on with delivering for our customers, businesses and London."
The RMT warned that there were still 'sticking points'. The union's general secretary Mick Cash said: "Our negotiators have been able to make enough significant progress in talks at Acas over pay, jobs and night Tube to allow us to suspend this week's strike dates. We have still not reached a final agreement."
London Underground said it remained 'operationally ready' to start night services on 12 September. The plans would mean that trains would run all night on most sections of the deep tube lines on Friday and Saturday nights, with the exceptions of the Bakerloo and Waterloo & City.
There are also plans to extend all-night services later to the subsurface network, which includes the Metropolitan and District Lines, as well as parts of the London Overground and the Docklands Light Railway by 2021.