Posted 29th July 2015 | No Comments
Calais crisis: 120 French police to reinforce security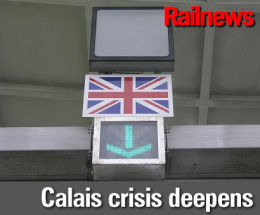 UPDATED 14.00

THE government's emergency COBRA committee has met today to discuss the growing crisis at Calais. Meanwhile Eurotunnel has confirmed that another migrant has died, after a collision with a lorry.

He has been described as Sudanese, in his late twenties. Nine migrants have now died in bids to get to Britain since June.
Another 120 French police officers are being sent to Calais to reinforce security there.
After the COBRA meeting, home secretary Theresa May said the British government was pressing for the rapid installation of security fencing. The government has allocated £7 million to improving defences around the Calais Eurotunnel terminal. She told the BBC that some migrants were "particularly trying to get into the Eurotunnel and on to the trains before that security fencing is going up".
The Tunnel was closed again yesterday, and last night an estimated 1,500 migrants attempted to breach the security zone boundaries and invade lorries and Eurotunnel services bound for Britain. The Freight Transport Association wants the army to be brought in, while the French authorities are calling for the border to be moved from Calais to the English side.
The prime minister, speaking during his visit to Vietnam, said the situation was 'very concerning'.
David Cameron said: "I have every sympathy with holidaymakers who are finding access to Calais difficult because of the disturbances there and we will do everything we can to work with the French to bring these things to a conclusion. But it is not a satisfactory situation.
"There's no point trying to point fingers of blame, it's about working with the French, putting in place these additional security measures, adding in the investment where that's needed and Britain will always come forward with that, we know how important it is and the Home Secretary will be co-ordinating this."
The deputy mayor of Calais, Philippe Mignonet, is one of the French officials who wants the border moved.
He said: "Calais is not the destination ... they want to get to England.
"England has got to realise that it is not our responsibility. The English border is in Calais and I'm requesting for the border to be transferred back in Dover and in Folkestone.
"We can't just accept any more. Again, they want to go to England, they are not coming to Calais, they go through Calais to get to England."
James Hookham of the Freight Transport Association said: "Calais is a vital trade gateway, with £89 billion passing through the port every year. We cannot allow the migrants to put this in jeopardy – already millions of pounds have been lost in delays, damage to vehicles and spoiled cargoes."