Posted 24th July 2015 | No Comments
Latest Calais incidents risk 'long-lasting damage' to railfreight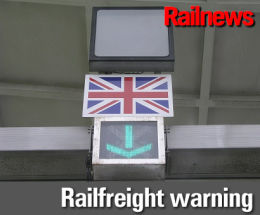 PROTESTING French ferry workers at Calais have again started fires and blocked Channel Tunnel traffic, and the crisis is now directly affecting businesses in Britain, the Rail Freight Group has warned.
Some of the 5,000 migrants in the area have been attempting to take advantage of the disruption by boarding lorries and Eurotunnel Shuttles. One migrant died on Tuesday, having been electrocuted last week when he climbed on top of a Eurotunnel shuttle, while Kent police have reported finding another body today (Friday).
Cross-Channel travellers are being warned of likely disruption over the weekend -- which is usually the busiest in the holiday season.
The protests have been caused by the sale of two ferries formerly owned by Eurotunnel to DFDS, following a competition ruling.
The RFG said the migrant crisis combined with the ferry workers' protests at Calais was now reaching 'critical levels', adding: "While the Rail Freight Group is aware of, and supports, the very considerable efforts being made by both Eurotunnel and train operators to protect railfreight services, it is evident that this in isolation is not sufficient.
"We urge the UK Government and regulatory authorities to work with their French counterparts to urgently implement solutions, and rigorous security, across the Calais area to prevent migrants accessing the rail infrastructure and to allow unimpeded cross-channel transits to recommence.
"Without immediate support and progress, serious and long-lasting damage will be caused both to the customers and operators of international rail freight."