Posted 7th July 2015 | 1 Comment
Disruption ahead as union members prepare to strike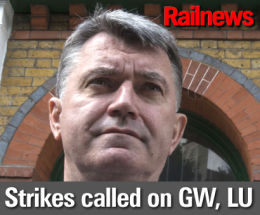 FIRST GREAT WESTERN and London Underground are gearing up for the effects of strikes this week, as workers stage protests over a claimed threat to jobs and the working conditions of drivers. The RMT is concerned about the future of train managers on First Great Western intercity services, while changes to working hours on London Underground when 'Night Tube' services start running in September have sparked disputes with the RMT, ASLEF, TSSA and Unite.

The RMT said it had not received reassurances about staffing levels on the future Intercity Express trains which are due to enter service on main Great Western routes in two or three years' time. The Hitachi-built trains are equipped with door controls in the drivers' cabs, which has raised fears that they could be operated without a train manager or conductor, although this is not said to be the intention.

RMT general secretary Mick Cash (pictured) said: "RMT has made every effort to secure a series of very basic assurances from FGW over jobs, services and safety as a result of the introduction of the new Hitachi fleet and they have shown no intention of addressing those issues in the talks today. RMT is angry and disappointed that the company have ignored the massive vote for action by their staff and have instead opted to plough ahead with a series of actions that will decimate jobs, services and safety. As a result of FGW collapsing the talks in this cavalier fashion the action goes ahead as planned."

First Great Western warned that its services were likely to be 'significantly affected' from Thursday to Saturday morning, and the trains which do run are likely to be 'very busy'. An overtime ban on Saturday itself could also result in more short notice changes or cancellations.
The company said: "All we want is to make sure our services give the best possible deal for our passengers. These brand new trains have been designed to deliver more seats, and faster, more frequent journeys - but we can't deliver those if they are operated in the same way as the 40 year-old trains that run today.
"We have already made assurances about job security and commitments to increase the number of staff on board Super Express Trains. Today we have made a number of additional commitments that we believe meet the concerns of the RMT, while still allowing us to deliver the improvements our customers want to see.
"While it is disappointing that the RMT were not able to take this proposal away today, we believe a negotiated solution to these proposals is possible, and are keen to continue discussions as soon as possible."
Meanwhile, Underground passengers are bracing themselves for major disruption from later on Wednesday and on Thursday. A walkout has been called because unions are opposed to the changes which will follow the introduction of all-night services on most deep tube lines on Fridays and Saturdays from September.
London Underground chief operating officer Steve Griffiths said: "Londoners and businesses overwhelmingly back the Night Tube. It will make life easier for everyone, cut journey times, create jobs and boost the economy.
"Most of our staff will not be affected by the new services at all because it affects only five of eleven lines. Some staff will actually work fewer nights than they do now because we have hired 137 more train operators specifically for the Night Tube.
"The train staff who will be affected are being asked to work around an additional seven nights each year on average, with no increase in their total current hours. No-one is being asked to work more hours.
"In return, we are offering a realistic pay increase this year and next, as well as an additional payment for Night Tube working. We are ready to negotiate, but any increase must be sustainable and fair. I urge the Trade Unions to keep talking to us to achieve a settlement."
However, RMT general secretary Mick Cash said: "Our representatives on London Underground have discussed it and are clear that it is divisive and unacceptable. While a small minority of staff are being offered a non-consolidated one-off lump sum the remainder of staff are ignored and the key issues of work/life balance and the personal health and safety concerns are side lined. The deal as it stands is financed off the back of the proposed axing of over 800 safety-critical station jobs and is deliberately constructed to play individuals off against each other in the most cynical fashion."
Reader Comments:
Views expressed in submitted comments are that of the author, and not necessarily shared by Railnews.