Posted 7th July 2015 | No Comments
Wreaths laid on tenth anniversary of London bombings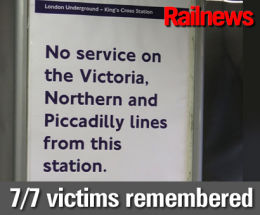 TRANSPORT FOR LONDON observed a minute's silence today, in remembrance of the 52 people who died in the London bombings ten years ago.
Separate devices in rucksacks were detonated on three Underground trains and a bus, killing or seriously injuring many morning rush-hour travellers. The attacks were carried out by four suicide bombers who had links with al-Qaeda. They had travelled by road from the north of England and completed their morning journey into the capital by train from Luton.
Some sections of the Underground were closed for weeks as a result, particularly the Circle and much of the Piccadilly Line.
Flowers were laid in Hyde Park by the Prime Minister and the Mayor of London, while the minute's silence followed at 11.30.
The capital's present transport commissioner Sir Peter Hendy, who was managing director of TfL Surface Transport when the bombings occurred, said: "No one who works at, or for, TfL will ever forget the events of 7 July 2005. Our thoughts are with the victims, those injured and their families and loved ones at this poignant time. The actions of our staff and contractors and the emergency services that day were nothing short of heroic - going above and beyond the call of duty to help and comfort those affected. We will always be proud of how TfL, as well as the Capital as a whole, pulled together and proved its defiance and resilience against terrorism. Our courageous staff worked tirelessly to get people home that night and to run as much of the transport network as possible the following day."
London Underground and Rail managing director Mike Brown added: "My thoughts are with the victims, families and survivors on this difficult day. What happened 10 years ago will never be forgotten, and neither will the valiant actions of our staff, the emergency services and members of the public, who worked so compassionately to help those in need. The people of London showed extraordinary courage and their support and patience as we worked to return the transport network to normal was invaluable."