Posted 24th March 2015 | 16 Comments
Derby to build new trains for First Great Western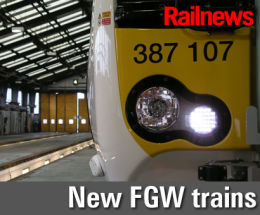 NEW Bombardier Electrostars are included in the plans for the new First Great Western franchise, which will be a boost for jobs in Derby.
The main fleets for long-distance services will be Intercity Expresses and hybrid AT300s, both from Hitachi.
However, Thames Valley electrification will need large numbers of suburban electric multiple units, some of which will be 21 Class 365s cascaded from Great Northern.
Also heading west will be 29 Class 387 four-car sets, which are currently being delivered from Bombardier in Derby to Thameslink on a temporary basis.
In the longer term, all 29 sets will move to First Great Western for Thames Valley services, but a further eight sets have been ordered by Porterbrook specifically for FGW, Railnews has learned. Most will run as four or eight-car trains, but FGW said there was also potential for a 'very limited' number of 12-car sets.
The additional capacity offered by each four-car Class 387 rather than a three-car diesel Class 165 will help to fulfil First's pledge to offer an additional 8,000 seats in peak hours between Reading and London by 2018.
The plans for AT300s for services west of Bristol have not yet been confirmed, because they depend on a private financing deal and DfT approval, which is due by June.
Diesel class 165s displaced by Thames Valley electrification will stay with FGW for services between Cardiff, Bristol and the south coast. The 158s released from this will be used for local main line services in the far south west. They will be needed when local services between Plymouth and Penzance are increased to half-hourly.
Departing rolling stock will include the Class 142 and 144 Pacers currently in use in the Bristol and Exeter areas, while the Devon and Cornwall branch lines will mainly be worked by two-car Class 150s rather than the single-car Class 153s.
The new First Great Western franchise was announced yesterday, and will start in September.
First Great Western managing director, Mark Hopwood said: "For us, this franchise deal is about changing the way people think about rail. The Great Western network is already seeing the biggest investment since Brunel, and this deal has been designed to match that investment and ambition. It gives passengers newer trains, faster, more frequent services and importantly, given the growth this franchise has seen in recent years, more seats – three million extra seats a year by December 2018.
"We've worked with the Department for Transport to make sure passengers get every bit of benefit from the mainline electrification programme, while making sure no area misses out. I believe that the team at First Great Western will deliver for customers and the thriving communities and economies they serve, as well as the taxpayer."
Reader Comments:
Views expressed in submitted comments are that of the author, and not necessarily shared by Railnews.
Nothing has been said about electric services between Cardiff and Bristol and Bath wouldn't it be useful to have one to relive overcrowding on Cardiff-Portsmouth services. These could be operated by Class 319s as was originally
intended then there won't be so many units surplus to requirements.

It's also a shame that Bombardier have only built 30 Class 379's for Stansted Express and Abellio Greater Anglia West Anglia services. I think Bombardier should of build more Class 379 Electrostars for Abellio Greater Anglia to cascade the 94x Class 321's and 72x Class 317's elsewhere like giving the Class 321's to Northern Rail and Class 317's to Arriva Trains Wales with 130x Class 379's to be built for AGA.

In addition to small DMUs, Cornwall and Devon need more frequent HST services; never before have I witnessed Plymouth and Penzance so empty yet every HST service I have been on recently has been very crowded at least. Hopefully in return for such outstanding performance fGW will consider refitting the carriages with seating that reminded us all what Comfortable, Spacious and Sociable rail travel was like. Charging facilities for your smartphone are no substitute, especially when so many of them dont seem to work.

Finally, surely any future trains coming out of Derby for the FGW franchise will be the new Aventras not Electrostars.

(The Class 387s are Electrostars, and the extra eight were an option in the original orders.--Editor.)

I find FGW's Class 165 and 166 trains very good trains. If these are going to work services to and from Cardiff Central and Portsmouth Harbour, then I think regular uses of this route will fully appreciate extra seats. These are up to about a few years younger than the Class 158 trains.

If (however) Class 165 and 166's won't be working this route, then this will mean that this route misses out on investment for the time being. If I'm right, First Great Western wants to invest in all of their routes.

Conflicting comments from Paul Wash & The Colonel regarding the 165's & 166's. So, are these inferior to the 158's used at present?

I understand that the 166's are air conditioned but the 165's have no Air con. Are the 165's going to have air-con fitted? If not, then surely people will try and board only the 166 portion in cases where a 165 is attached?

If we have a 2 car & 3 car joined together, are they going to modify them by ripping out the cabs to make a connection? If not, surely they will need 2 train managers?

Comment has been made about loading gauge SE of Westbury. Presumably this has been checked out and any modifications considered to be well worthwhile.

Sounds rather disappointing for us regular users of the Portsmouth/Cardiff and Weymouth/Bristol/Gloucester services, after all, the standard 165's were designed for commuter use. 5 seats across sounds a bit cramped for a 4 hour plus journey, especially with little or no luggage space for all the cruise passengers now using Southampton (not unusual to have 5 - 6000 passengers disembarking when a couple of liners arrive at the same time), and the numbers are set to rise year on year. I was hoping the 158's from the Portsmouth/Cardiff line would move west to Weymouth and the 150's move further west to boost the quality of the trains on Exeter/Barnstaple/Torbay routes, many of which are 143's which have a really uncomfortable ride.

Most turbos earmarked for Bristol metro, and some kept for Thames valley branches and North Downs services so that is at least 15/20 needed for existing LTV diagrams plus turbos are so out of gauge for lines south of Westbury towards Salisbury/Southampton and Weymouth that the cost and disruption would far out weigh the benefits if there are any. Most Pompey/Cardiff services need to be 4/158 minimum and most Weymouth need at least 4 coaches

(Cardiff-Portsmouth services will be operated by five-car Turbos (2+3) from 2017, FGW tell me.--Editor.)

The Turbos are mainly for the increased services for the Bristol Metro Plans as not all Turbos will make there way West.
7/8 165 2 Car needed for Thames Valley Branches which doesn't have funding for electrification as yet
6/10 165/166 needed for Gatwick services and the increase of Gatwick services supposedly planned

Doubt very much that Turbos will be seen anywhere south of Westbury either via Salisbury/Southampton or via Yeovil, as the cost of re doing all of the platforms as Turbos are built as GW gauge and therefore wider than 158 and the like

The GW region is "seeing the biggest investment since Brunel"? Hmm methinks not. Considering steam era >> 1950s dieselisation loco hauled coaches and subsequently introduction of HST Intercity 125 service in the 1970s. Yet another train operator management hyberbole and embellishment of the truth.

(I am no supporter of spin and hyberbole either, although it is no part of our role at Railnews to censor what is said. However, in this case there might be something in it. The replacement of Western Region steam by diesel hydraulics from the late 1950s and the introduction of Intercity 125s from the later 1970s were certainly the result of major investment, but the infrastructure improvements which accompanied them were not in the same class as electrification between London, Swansea and branches, surely?--Editor)

The 142s left FGW back in November 2011 to return to Northern. 144s have never operated in the South West, although the FGW franchise does currently both own (3 sets) and lease (5 sets) class 143 units for services in the Exeter area.

I would hope that the remaining HSTs that aren't off to Scotland would be refurbished to live out their days back on cross-country work covering diagrams between the Scotland, the North East and South West England.

(We are corrected. We meant 143s. Thank you for the update. Incidentally, there has been no decision about what might happen to displaced HSTs.--Editor)

If new-build Electrostars are ordered for FGW, perhaps all 319s will now move north and, in turn, be totally re-engineered, including the once-promised air conditioning. As recently hinted, they could last another 20 years or so, until replaced by cascaded 387s.

166's are better than the 158's 153's and 150's currently experienced

Portsmouth/Brighton/Weymouth to Bristol and Cardiff

Job for retired HST's (or at least use some Mk3s) ?
Chance for an Open Access operator to step in ?

(Hmm. Can't see open access being allowed to abstract revenue from FGW on this route. FGW has pointed out that the HSTs will need major work around 2020. 'At least use some Mk3s' implies locomotive haulage. Expensive and very unlikely, I fear.--Editor.)

165's and 166's on Portsmouth/Brighton/Weymouth to Bristol and Cardiff? What a horrible thought. Pretty sub-standard stock for what is in part a long distance cross-country route.