Posted 23rd March 2015 | 5 Comments
More new Great Western trains are part of franchise award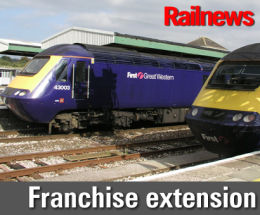 UPDATED 11.18

FIRSTGROUP has reached agreement with the DfT for a further Intercity Great Western contract, after months of detailed negotiations. The new contract starts in September and runs until April 2019.
The GW network faces major changes between now and 2019, including electrification and new Intercity Express trains. A separate fleet of privately-funded hybrid trains for intercity services west of Bristol is also part of the plans.
The award is the second of its type in just a few days. FirstGroup and its franchise partner Keolis have just won a one-year extension of First Transpennine Express, which was announced on Friday.
The improvements which have been agreed on First Great Western include managing the introduction of 369 new Hitachi-built Intercity Express vehicles, which have been specified by the DfT. Faster journeys are promised, and 58 electric trains will be cascaded to the Thames Valley routes for local and commuter services.
The deal also includes recommendations from FGW to introduce a fleet of 29 hybrid long distance trains which, subject to contract and approval from the Department for Transport by the end of June, would replace High Speed Trains between London, Devon and Cornwall from summer 2018.
First said it has already completed the procurement of these new trains, selecting Hitachi Rail Europe as the preferred bidder. Hitachi will supply its AT300 125mph bi-mode trains, which are similar to the new Super Express Trains, in five- and nine-car variants, and there is an option for up to 30 more. First is finalising arrangements under which these trains would be privately financed.
The AT300 trains will use higher engine power to cope with gradients in Devon and Cornwall. They will run as electric trains between London and Newbury, and are equipped with bigger fuel tanks for the long distance journeys to Plymouth and Penzance. Journey times would be reduced by five minutes between London and Exeter, six minutes to Plymouth and 14 minutes to Penzance.
Complaints of severe overcrowding in the peaks, particularly between Reading and London Paddington, have been met by undertakings to provide another 4,000 morning peak seats to Paddington by December 2018. Investment has also been announced, with £30 million for stations and station car parks, £3.5 million for a station development 'match fund', and a £2.5 million accessibility fund.
Transport secretary Patrick McLoughlin said: "I am determined that passengers in the West, Thames Valley and South Wales get a railway that is fit for the 21st century. This is a fantastic deal which will give them more seats, more services and brand new fleets of modern trains, " while FirstGroup chief executive Tim O'Toole said First would be "using our unrivalled knowledge and experience of the network to help deliver significant upgrades over the next few years, in particular the introduction of new trains as the main line is electrified".
He continued: "Under our experienced management, the franchise will see new or refurbished trains on every part of the network, resulting in more frequent and faster journeys and an increase in the number of seats. These, and a range of further passenger benefits, will keep people moving and communities prospering across the Great Western network."
The new contract is a further 'direct award' rather than the result of a competitive tender. Direct awards to preferred operators have been made several times over the past two or three years, because the DfT's franchising programme was disrupted by the failure of the Intercity West Coast competition in October 2012. This award is in line with the revised DfT schedule for rail franchises which was last updated in October 2014, and seems likely to be the last franchise decision before the general election on 7 May.
Reader Comments:
Views expressed in submitted comments are that of the author, and not necessarily shared by Railnews.
we need a new route into Devon and Cornwall from Taunton or Exeter, and FGW needs to be forced to run more frequent services than what it is doing. Okehampton to Newquay via the airport then down to St Austell with a triangle for Truro Falmouth and Penzance. Total cost around 7 billion. And no, Im not running for parliament, Im deadly serious.

The 8 x new sets are the exercising of an existing option so no public tender is required. However, a public tender would probably meant that the sets would be supplied by a Eurozone builder.

(Why? The 29 387s currently being delivered to Thameslink are going to FGW, so it would make no sense to add a further fleet of eight different units built by, say, Siemens. The maintenance implications alone are considerable.--Editor.)

Yet another franchise award following on ECML and TSGN gives one a sense of De Ja Vous that we are in the mid 1990s with an election fast approaching ....

This award to First makes sense given the major upheaval this network is undergoing with electrification and new trains for both long and short distance services .

The end date of 2019 ties in with the start of full Crossrail services and raises the question as to whether this franchise should continue to cover both inter city and local services or whether it should be split like other main lines with GWR franchise only covering long distance services while London services could become part of the Overground with other local services devolved to say a South West England body similar to Rail North ?

The news of AT300 trains is a similar surprise as the AT100 trains for Scotland were but raises the question as to whether Bombardier were invited to bid ?

While these AT300 trains will be bi- mode one does feel a need to electrify the route to Exeter using 25kv overhead needs to be part of next control period allowing electric trains to Exeter by both GWR and SWT etc,

(I haven't checked, but I am quite sure that the procurement processes were subject to full OJEU listings, as required by law. Bombardier, like any other train builder, would then have had a chance to submit a tender bid.--Editor.)



This is a sensible decision. GW is faced with many changes in the next few years, electrification of two major routes, introduction of IEP, resignalling, and it would be of little sense to change the TOC now. Introduction of enhanced IEPs to the West Country route is a bonus, as well as making more HSTs available generally.

Most of this we knew already, but Devon and Cornwall is the interesting bit. Last time I checked, the play was that the existing HSTs would continue to serve the route to Plymouth/Penzance "for the foreseeable future". Now it looks like it's getting either IEPs or something very similar.

Minded to support this. Lots of complaining from Devon and Cornwall people from being left out of all the rail improvements going on elsewhere, and I don't blame them. They should have their fair share.