Posted 23rd February 2015 | 9 Comments
New railway to Stansted Airport is 'vital'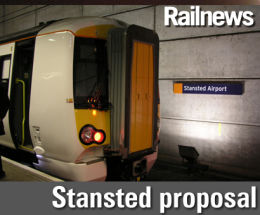 A SUPPORTER and promoter of High Speed Rail has called for a new railway to be built linking London and Stansted Airport.
Jim Steer, founder and director of global transport consultancy Steer Davies Gleave and also a director of the HS2 lobby group Greengauge21, said that a new line between the airport and London Liverpool Street could reduce journey times to less than 30 minutes.
He told delegates at the 14th Stansted Airport Transport Forum that improvements would also benefit the East of England and its economy by providing faster trains and new direct services to key destinations in the region such as Canary Wharf, Cambridge, Colchester, Norwich and Ipswich.
He said: "A new rail line between London Liverpool Street and Stansted Airport and onwards to the east and north would significantly improve access times to around 26 minutes to the airport. London - particularly east London - will see significant economic and population growth over the next twenty to thirty years. The same is true of the corridor between London and Cambridge. To support this growth, we urgently need a strategic plan for housing and transport infrastructure. Rail infrastructure development, centred on Stansted, makes good sense and would increase the airport's competitiveness and have wider economic benefits for the East of England region."
Mr Steer's comments have came in the same week that the Chancellor George Osborne and Mayor of London Boris Johnson announced a taskforce to study options for improving London-Stansted-Cambridge rail links, and also as the DfT published its procurement notice for the next Greater Anglia franchise, which includes an aspiration to reduce the London-Norwich journey time to 90 minutes.
Stansted Airport managing director Andrew Harrison said that faster rail services to the airport were 'vital'. He added: "Unlike other London airports, Stansted has spare runway capacity today and significant room to grow in the future."
The existing line to Stansted was opened by British Rail in 1991.
Reader Comments:
Views expressed in submitted comments are that of the author, and not necessarily shared by Railnews.
Braintree link - long overdue.

Crossrail - Extend Reading services north from Shenfield?
Crossrail2 - Extend to Standstead?

Hotel blocking route - maybe a myth this one but need clear forward transport planning including such things as:
1. protected railway rights on former routes?
2. outline plans for new lines with protection for railway use considered when redevelopment / planning applications occur in the area?
3. requirement for property owners / developers to take out something equivalent to restrictive convenant insurance on former or proposed railway land?

Thank you Mr Francis and The Editor for this. What's the best method of getting this idea put forward? And could we ask other readers of this publication to also put forward the suggestion of extending the link from Stansted onto Braintree?

(*Quite true. It was originally envisaged that the line could continue to Braintree. Unfortunately, the way is now blocked by an airport hotel.--Editor)

I've heard this before but I think its an urban myth. If you look at aerial photos on Google, Bing, etc you will see that the Radisson hotel is some way to the north west of the rail alignment that would go north out of the airport station. The line would run in the landscape strip between the hotel car park and Terminal Rd North. At worst it might impact on the very south eastern edge of the hotel car park, but that is the side opposite to the hotel.

(Thank you for that. I was visualising the hotel [and have been in it] but I am pleased to hear it may not be so much of an obstruction after all. On to Braintree, then!--Editor)

As a mid-term suggestion, why not reinvestigate reopening the Braintree - Dunmow line, then a new alignment to connect this to Stansted Airport, which as built was designed as a through station?* Surely this would open up a second route from Liverpool Street by connecting Stansted to both the West Anglian main line and the Great Eastern main line? In time, further links could be investigated, i.e. to HS2, but surely this would be a relative quick win?

(*Quite true. It was originally envisaged that the line could continue to Braintree. Unfortunately, the way is now blocked by an airport hotel.--Editor)

I a quite sure that the proposed link is NOT vital; I do not think Stansted will fail if the link is not built.



Greengauge21 has already talked about. a HS3 which would cover the ECML side of the country and originate in London at Liverpool Street but this is a long term plan.

However, with London Overground taking over the West Anglia lines and plans for these to become part of Crossrail 2 then an upgrade of the route could be brought forward with upgrades to local stations and 4 tracking to seperate overground from fast trains which include Stansted trains .

Doing this earlier would also reduce the cost of Crossrail 2 in the same way as Reading Station rebuild and GWR electrification allowed Crossrail to be extended to Reading on the back of these investments,

Another link for Stanstead could be Eaśt West Rail .

We know from HS2 that extra lines out of London are stupidly expensive. If we're lucky, we might be able to keep the costs down by building over the reservoirs that run parallel to the A10 instead of the tunnels, but the cost will still be horrendous. I can't see a faster link to Stansted, or even Stanstead plus Cambridge, justifying this sort of expense.

There is, however, a case for a new line along that sort of corridor with a wider scope. The 18tph offered by HS2 doesn't cover everywhere that should be covered, with places such as Stoke and North Wales missing out. We ought to consider routing trains to the north-east on another line, joining either the ECML or the eastern branch of HS2, or both. Maybe a Stansted line could be the first stage of that.

The most major Transport decision to be taken is whether or not the South East needs a new Airport Runway - and if so where it is to be built. On that decision hangs all the decisions on new Railway lines and Roads and all their connections and interchanges.