Posted 16th February 2015 | 2 Comments
Many passengers delayed, claims report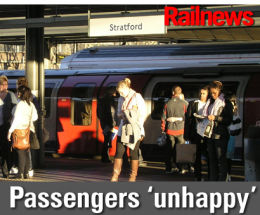 A NEW rail passenger survey from the consumer charity Which? claims that 'rail operators aren't doing enough to let delayed passengers know their rights on compensation'.
Which? said it had gathered responses from more than 7,300 train users. They were asked about their journeys over the last 12 months. The scores were based on general satisfaction and the likelihood of recommending that train company to a friend. Which? also asked people to say how they felt about reliability, punctuality, value for money and cleanliness.
Three in 10 said they had suffered a delay when they last travelled, while three quarters of those held up for more than an hour said they were not told that this meant they qualified for a full refund.
Southern was the worst, with four in 10 saying they were held up the last time they travelled. By contrast, c2c was the least delayed with around one in ten passengers reporting a delay on their last journey.
Which? also said that the best operator for letting passengers know their rights on delays was London Overground, which told four in ten (38 per cent) passengerswhen they were entitled to a full refund on their last journey. They were followed by South West Trains (33 per cent), SouthEastern (31 per cent), First Great Western (27 per cent) and lastly Southern, where two in 10 (19 per cent) of those entitled to claim compensation said they were informed about their rights on their last journey.
Thameslink & Great Northern/First Capital Connect scored the lowest on general satisfaction with a score of 43%. The six lowest scoring operators are also some of the biggest, covering commuter networks in the South East network around London.
Which? executive director Richard Lloyd, said:"Long delays and consistently low levels of customer service are driving commuters to distraction.
"Passengers often have little or no choice as to the rail companies they travel with, so as ticket prices continue to rocket, more must be done to improve customers' satisfaction and to inform people of their right to a refund as a result of delays."
A spokesperson for the Rail Delivery Group said: "The timetable is our promise to passengers. While almost nine out ten trains now arrive on schedule, we are investing billions of pounds so that we make good on that promise more often and improve passengers' satisfaction with our services.
"Compensation payments are increasingly generous and easy to apply for and are often made regardless of the cause of a delay. This is why the amount paid out to passengers under the Delay Repay scheme increased by £10 million between 2013 and 2014, despite punctuality improving over that period."
Labour's Shadow rail minister Lilian Greenwood said: "Today's reports prove that the forthcoming East Coast sell-off is set to be a terrible blunder that puts privatisation ahead of passengers' and taxpayers' best interests. The reports from both Which? and the Office of Rail Regulation underline the need for rail industry reform – reforms David Cameron's Government have been unwilling to consider at a time when fares are up by more than 20 per cent since 2010.
"East Coast was one of only two train operating companies that made a net contribution to the Treasury once infrastructure costs were taken in to account, and passenger satisfaction is still shockingly poor.
"East Coast also had better passenger satisfaction than any long-distance franchise. This is a service that the Government rushed to privatise without even allowing the publicly owned British operator to bid for the route. Labour will end the bias against the public sector and institute a new body for running the railway which will have a strong voice for passengers at its heart."​
Reader Comments:
Views expressed in submitted comments are that of the author, and not necessarily shared by Railnews.
""East Coast was one of only two train operating companies that made a net contribution to the Treasury once infrastructure costs were taken in to account ..."

*Sigh*. They know as well as I do that's got nothing to do with who runs what. Long-distance trains are far better suited to make money than local trains because it's better if you can spread demand over the whole day (which you can't do with commuting spikes). The only two TOCs that are entirely long-distance services are East Coast and Virgin. (EMT and Great FGW run local areas as well as long-distance once so can't be compared.)

Between EC and Virgin, EC wins easily because Virgin is dragged down by the stupidly expensive upgrades on the WCML. True, there's upgrades on the ECML too, but so far, it's been possible to deliver a lot of improvements with a few cheap and easy upgrades.

Does anyone seriously think Northern would turn a profit if that was nationalised?