Posted 13th January 2015 | No Comments
Northampton station opens and North moves forward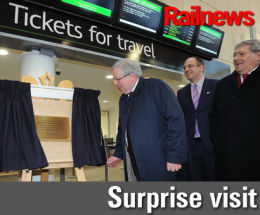 TRANSPORT secretary Patrick McLoughlin paid a surprise visit to Northampton on Monday 12 January to open the town's new £12 million station.
Station operator London Midland had been pulling the stops out to transfer equipment and staff from the old station building, which had become too small for the growing demand.
The new building is much larger, London Midland said, providing more circulating space and gateline capacity to cope better with peak hour crowds.
The opening had been delayed for a few weeks by power supply problems, but local councillors said they were delighted to see the conclusion of the project.
The DfT had only confirmed that the transport secretary would be able to attend just before the weekend, but a plaque was quickly arranged for the transport secretary to unveil.
London Midland said a more formal opening is still being planned in the near future.
Patrick McLoughlin then continued to Leeds, where he joined the inaugural meeting of Transport for the North, an alliance of key local authorities which was announced by the DfT in October.
The new organisation will be responsible for drawing up what the DfT described as a 'comprehensive transport strategy' for the region, which will not only consider rail links, particularly east to west, but also roads, ports, airports and broadband.
Mr McLoughlin said: "Rebalancing the economy and creating a northern powerhouse of jobs, investment, prosperity and bright futures, is a key objective of the government's long term economic plan.
"It is crucial we work together to deliver a world-class, integrated transport network for the north that reduces journey times, increases capacity and connectivity and enables growth.
"We have already made great strides and the creation of Transport for the North is an excellent next step. I want Transport for the North to speak with one voice to government on the big decisions to benefit the region as a whole."
Chair of the meeting and leader of Manchester City Council Sir Richard Leese added: "This is about how we gear up the north and build a northern powerhouse which can properly fulfil its potential for UK plc.
"Economic growth doesn't happen by accident, it happens by design and having the right integrated infrastructure in place is vital for us to generate that growth."
An interim report is set to be published in March.